Article successfully added.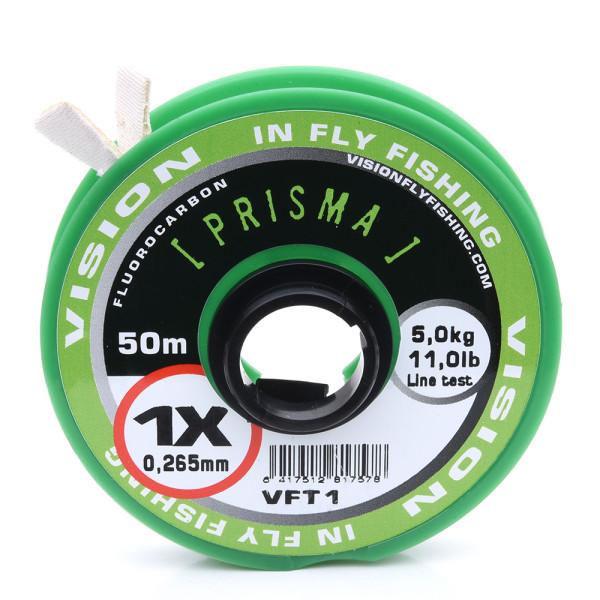 Vision Fluorocarbon Prism Leader Spools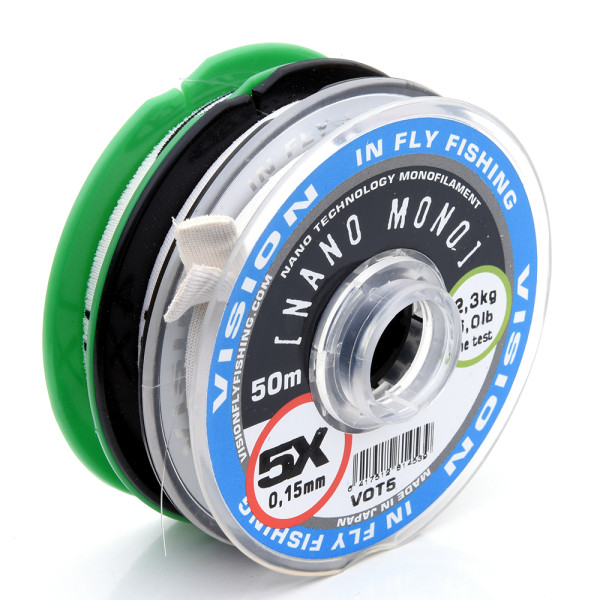 Vision Fluorocarbon Prism Leader Spools
Vision Fluorocarbon Prism Leader Spools
Vision Fluorocarbon Prism Leader Spools
The Prisma tippet material is a high quality, 100% high-tech fluorocarbon. It is very stiff, low stretch and slightly harder compared to the Space Fluorocarbon from Vision. But: due to a special coating it gets a minimal stretch, which makes it possible to tie knots even better and more stable.
The Prism is therefore our preferred choice when it comes to casting larger, heavier or bushy flies, because the stiff material helps to turn over your flies and prevents wind knots. It is especially popular on salmon and sea trout, both in the river and on the coast, but we also use the material with a great deal of confidence in tropical saltwater and on our domestic predators.
Due to the high density of fluorocarbon, it sinks and breaks surface tension, which makes it ideal for use with unweighted wet flies and dry flies. We especially like to use it for nymph fishing because its low stretch allows for excellent bite detection and it is very abrasion resistant.
Not only is it nearly invisible in the water, but it also has a whole host of other valuable properties.
Advantages of Prisma Fluoro:
Dense and uniform material reduces surface tension and sinks well
Stiff fluorocarbon with excellent knot and tensile strength
Easy to knot thanks to special coating
High abrasion resistance due to smooth surface
Tolerates UV light and harmful chemicals better than nylon
Better turn-over in windy conditions
Prisma Fluoro, like all other Vision leader material, comes in interlocking and rotatable spools. So you can conveniently tuck all your Vision spools into each other and always have them at your fingertips.
Details:
100% Fluorocarbon
Extra stiff: excellent for big flies and lots of wind
High carrying capacity
High knot strength
Very abrasion resistant
Extra low stretch: perfect for direct contact
Invisible under water: same refractive index as H2O
Sinks slightly
All Vision Tippet spools can be put on top of each other
Content: depending on diameter 50 m, 30 m or 20 m (see table below)
| Durchmesser | Tragkraft | Länge | Stärke |
| --- | --- | --- | --- |
| 0,8 mm | 0,9 kg / 2,0 lbs | 50 m | 8X |
| 0,12 mm | 1,5 kg / 3,3 lbs | 50 m | 7X |
| 0,14 mm | 1,9 kg / 4,2 lbs | 50 m | 6X |
| 0,16 mm | 2,4 kg / 5,3 lbs | 50 m | 5X |
| 0,18 mm | 2,8 kg / 6,2 lbs | 50 m | 4X |
| 0,21 mm | 3,4 kg / 7,5 lbs | 50 m | 3X |
| 0,23 mm | 4,7 kg / 10,3 lbs | 50 m | 2X |
| 0,26 mm | 5,0 kg / 11 lbs | 50 m | 1X |
| 0,28 mm | 5,9 kg / 13 lbs | 50 m | 0X |
| 0,31 mm | 6,8 kg / 15 lbs | 30 m | |
| 0,33 mm | 7,5 kg / 16,5 lbs | 30 m | |
| 0,36 mm | 9,4 kg / 20,7 lbs | 30 m | |
| 0,39 mm | 10,3 kg / 22,7 lbs | 30 m | |
| 0,42 mm | 11,4 kg / 25 lbs | 30 m | |
| 0,46 mm | 12,5 kg / 27,5 lbs | 30 m | |
| 0,49 mm | 14 kg / 31 lbs | 20 m | |