Article successfully added.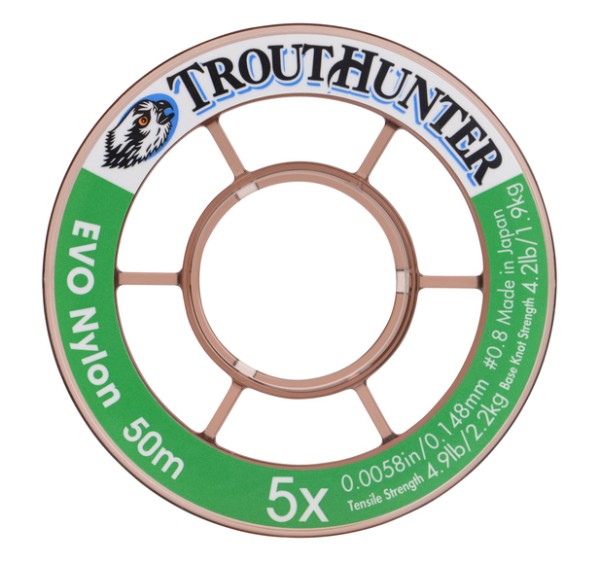 Trout Hunter EVO Nylon Tippet
Trout Hunter EVO Nylon Tippet
EVO Nylon is an improvement over Trout Hunter's existing Nylon achieved through the proper application of a proprietary organic coating to the existing Nylon material. By applying the coating in a unique process, much stronger knot strengths are achieved with no noticeable increase in diameter. The coating also adds a measure of durability in combating abrasion.
The coating repels water so the nylon will float better than previous nylons. In addition, once the package is open the coating will protect the material from water and humidity that will enter the spools from normal use adding to the useful life of the purchase. Memory is nearly non existent even after the material has been tested or stretched.
Trout Hunter's EVO Tippet material is the industry standard, when it comes to dry fly- and topwater fishing. The combination of great unsurpassed buoancy and durability on the one hand and supreme knot and breaking strength on the other, makes this tippet material truly ground-breaking!
Details:
Greatly Improved Knot Strength (comparable with that of Fluorocarbon)
Higher resistance to abrasion and impact
Improved Flotation
Longer Life
No memory
50 m per spool (0X - 2X: 40 m)
| Size | Diameter | Strength |
| --- | --- | --- |
| 8X | 0,09 mm | 0,8 kg |
| 7X | 0,104 mm | 1 kg |
| 6,5X | 0,117 mm | 1,3 kg |
| 6X | 0,128 mm | 1,6 kg |
| 5,5X | 0,138 mm | 1,8 kg |
| 5X | 0,148 mm | 2,2 kg |
| 4,5X | 0,165 mm | 2,6 kg |
| 4X | 0,185 mm | 3,3 kg |
| 3X | 0,205 mm | 3,7 kg |
| 2X | 0,235 mm | 4,5 kg |
| 1X | 0,260 mm | 5,5 kg |
| 0X | 0,285 mm | 6,3 kg |