Article successfully added.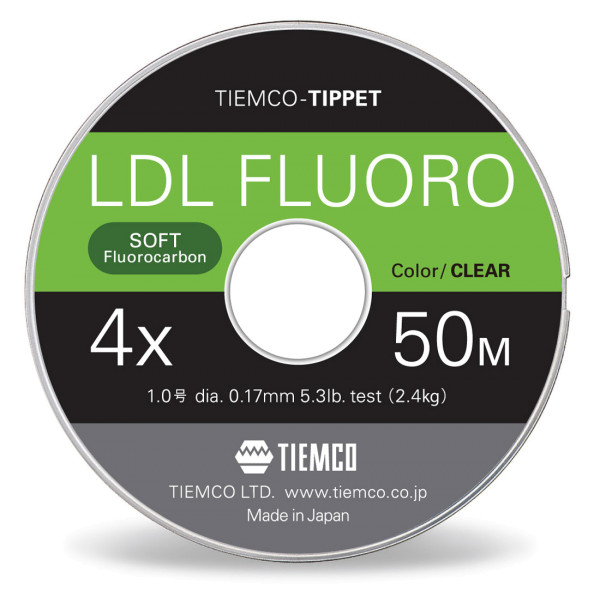 Tiemco TMC LDL Soft Fluorocarbon Tippet 50 m
was

€29.90 *

(16.72% Saved)
€24.90 *
Content:
50 meter (€0.50 * / 1 meter)
Prices incl. VAT plus shipping costs
15% EXTRA on Sale Products (Spring Cleaning)

Deal valid until 10.04.2023 and while stocks last. The extra discount will be displayed in your Basket.
*1
*1 Offer valid until 11/04/2023
Tiemco TMC LDL Soft Fluorocarbon Tippet 50 m
The LDL Soft Fluorocarbon leader material from Tiemco is slightly softer than conventional fluorocarbon and is therefore even suitable for delicate dry fly fishing. An advantage over many other leader materials is the first-class abrasion resistance, which saves you from losing fish, especially on the coast and in running waters with large stones. Of course, the LDL Soft Flurorocabon sinks slightly into the surface film, giving you a big plus when serving emergers, light nymphs and other patterns that need to "sit" a little deeper. In addition, the material's light refraction factor is almost the same as that of the water, making it virtually invisible underwater. This can make all the difference, especially when fishing in crystal-clear waters and for tricky fish. Last but not least, we were impressed by the high knot strength for which TMC is known and which has been tested reliably.

In short: the Tiemco LDL Soft Fluorocarbon Tippet is a very high-quality and an extremely reliable leader material that is suitable for a variety of different disciplines - from Trout streams to the coast!

Details:
Leader material made from high quality fluorocarbon
Softer than regular FC
Very high knot strength
Transparent and almost invisible in the water - perfect for fishing for tricky fish!
Impressive abrasion resistance and yet very supple
Excellent durability
Content: 50 m
| Strength | mm Ø | kg |
| --- | --- | --- |
| 2x | 0,23 | 4,6 kg |
| 2,5x | 0,22 | 3,9 kg |
| 3x | 0,20 | 3,7 kg |
| 3,5x | 0,18 | 3,0 kg |
| 4x | 0,17 | 2,4 kg |
| 5x | 0,15 | 2,1 kg |
| 6x | 0,13 | 1,6 kg |
| 6,5x | 0,12 | 1,3 kg |
| 7x | 0,10 | 1,1 kg |
About Tiemco:
Tiemco offers you a lot of accessories that you might need for either fly fishing as well as spin fishing. Among fly fishers, especially the different hooks of the Japanese company have built up a great reputation and are used for tying various patterns. However, the high-quality accessories for fly tying are also popular with discerning tyers. For spin fishermen, the company offers well thought-out soft and hardbaits, as well as jig hooks with that certain something extra.