Article successfully added.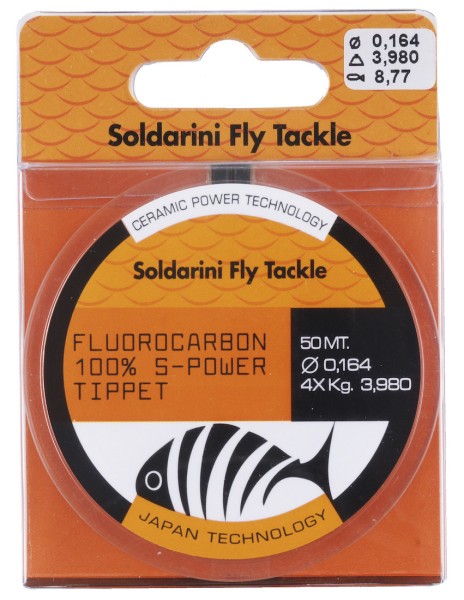 Soldarini Fly Tackle Fluorocarbon S-Power Tippet
Soldarini Fly Tackle Fluorocarbon S-Power Tippet
Products from Soldarini Fly Tackle (Italy) are well-known amongst international competition fly fishers. All products are born on the water and offer highest functionality.
The S-Power Fluorocarbon is specially designed for fly fishing and produced with the latest generation technology, allowing to obtain a pure fluorocarbon. Pure FC is much softer than conventional material and features a superior knot strength and the lowest light refraction. This makes the S-Power tippet almost invisible when submerged in water. In the end, this new technology allows a more natural presentation making S-Power a great choice for all fly fishing techniques - first of all nymphing and fishing with the streamer.
Soldarini has gained lot of experience during many years of competition fly fishing. This tippet is a result of his hard work.
Details:
High-quality Fluorocarbon
Nearly invisible in the water column
Slightly sinking
High knot strength
High abrasion resistance
Material: 100% Fluorocarbon
Large Arbor Spool for less memory
50 m/spool
Made in Japan
| Diameter | Strength |
| --- | --- |
| 0,008 mm | 1 kg |
| 0,10 mm | 1,6 kg |
| 0,12 mm | 2,3 kg |
| 0,14 mm | 2,95 kg |
| 0,16 mm | 3,98 kg |
| 0,18 mm | 5,1 kg |
| 0,20 mm | 5,95 kg |
| 0,22 mm | 6,83 kg |
| 0,25 mm | 8,67 kg |