Article successfully added.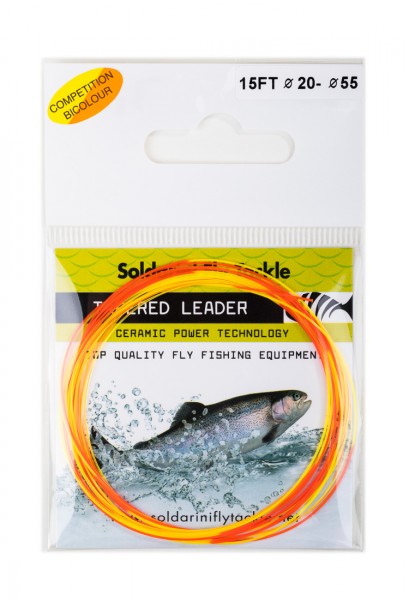 Soldarini Fly Tackle Euro Nymph Competition Bicolour Tapred Leader 15 ft
Soldarini Fly Tackle Euro Nymph Competition Bicolour Tapred Leader 15 ft
In tight line nymphing (e.g. 'French Nymphing') super long and extra fine leaders are used. The main goal is to get a nearly direct connection to the nymph - without dragging it through the current. Even the most delicate takes can be recognized, due to special leaders with minimal stretch and because of lightweight rods with sensitive tips (#2 - #4 with a length of 10ft. - 11ft.). In contrast to a lot of other nymphing techniques the take is no longer visual, but can actually be felt in the blank. Therefor no ordinary, swimming strike indicators are used.
The 'Competition Bicolour Tapered Leader' by Soldarini Fly Tackle is a 2in1 solution. Because its leader and sight at the same time. Whereas with most Euro Nymph Leaders an additional sighter is put between leader and tippet, the dual tone nylon used here helps to follow and controle the nymphs drift. It has nearly no stretch, shows high abrasion and no memory! The advantages are obvious: The smallest nymphs can be presented very precisely und it's easer to get in touch with your nymph close to the river bottom. Much better than with ordinary leaders!
It has a total length of 15 ft. which makes it to a allround nymph leader. Also dry flies can be presented with that taper! Still, long drifts are possible and your reach is extended. The leader is tapered down from a 0.55mm butt section.
Details:
Bicolour Tapered Leader (0.55 mm butt section)
For nymphs and dry flies
Length: 15 ft. (4,5 m)
Multicolour (orange/yellow)
No Stretch
No Memory
About Soldarini Fly Tackle:
The Italian manufacturer Soldarini Fly Tackle is known for innovative products with a practice-oriented design. Due to their involvement in the international competition scene, the developers from Soldarini place great emphasis on functionality. Therefore, it is hardly surprising that these products are very popular – especially for modern nymphing techniques. In addition to fantastic rods and reels, Soldarini also offers lines and leaders for targeting trout and grayling with all kinds of techniques. Further, this extensive product range also includes an outstanding selection of flies that are tied on high-quality hooks in a very durable way. Last but not least, the Italian manufacturer also offers modern high-quality fly tying materials with an impressive value for money.