Article successfully added.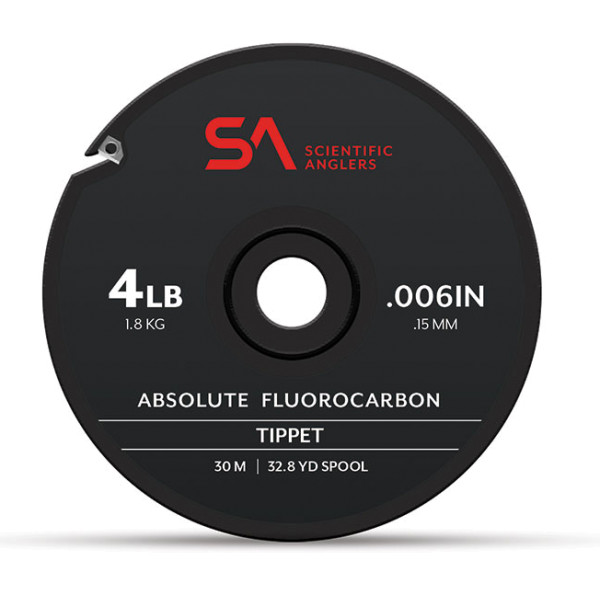 Scientific Anglers Absolute Fluorocarbon Trout Tippet
Scientific Anglers Absolute Fluorocarbon Trout Tippet
Scientific Anglers Absolute Fluorocarbon Trout Tippet
Absolute - so lautet der kurze und prägnante Name der neuen Vorfach Reihe von Scientific Anglers. Dabei bietet das Absolute Fluorocarbon Tippet aus dem Hause Scientific Anglers genau das, wovon anspruchsvolle Fliegenfischer träumen: Eine perfekte Mischung aus beeindruckender Tragkraft, Abriebfestigkeit und eine 15% höhere Nassknotenfestigkeit als Vorgängermodelle. Zudem lässt es sich dank seiner ausgezeichneten Geschmeidigkeit hervorragend knoten, sodass es sich hierbei zweifellos um eines der besten Fluorocarbon Materialien auf dem Markt handelt. Es ist also kaum verwunderlich, dass die Entwickler dieser Schnüre ihre Produkte als "Absolute" beschreiben.
Das Scientific Anglers Absolute Fluorocarbon Tippet ist aus 100% Fluorocarbon hergestellt und eignet sich sowohl fürs Süß- als auch fürs Salzwasser. Die 30 m Spulen besitzen einen praktischen Cutter und ein Silikonband, wodurch das hochwertige Fluorocarbon gesichert wird.
Wie jedes andere FC besitzt auch das Fluorocarbon von Scientific Anglers zwei große Vorteile: Zum einen hat FC einen vergleichbaren Lichtbrechungs-Index wie Wasser. Das bedeutet, dass Vorfächer aus FC im Wasser nahezu unsichtbar sind. In kristallklaren Gewässern hat es daher oftmals gegenüber herkömmlichen Vorfächern aus Nylon (Monofil) die Nase vorn. Zum anderen sinkt Fluorocarbon leicht ein, während Nylon auf der Oberfläche schwimmt. Aus diesem Grund und auch wegen seiner höheren Abriebfestigkeit wird FC gerne dort genutzt, wo Steine oder andere Strukturen im Drill für Gefahr sorgen.
Ob bei der Fischerei auf Forelle, Meerforelle oder aber tropische Spezien wie Bonefish, Permit und Co.: Das Absolute Fluorocarbon Tippet ist eine erstklassige Wahl!
Details:
Für Salzwasser und Süßwasser geeignet
Beinahe unsichtbar im Wasser
Sinkt leicht ein
15% höhere Nassknotenfestigkeit als Vorgängermodelle
Sehr hohe Abriebfestigkeit
UV-beständig (auch bei langer Sonneneinstrahlung verringert sich die Tragkraft nicht)
Cutter zum Schneiden an der Spule
Material: 100% Fluorocarbon
Farbe: klar
1 Stk./Packung
Inhalt: 30 m
| Größe | Durchmesser | Tragkraft |
| --- | --- | --- |
| 7x | 0,10 mm | 1,1 kg |
| 6x | 0,13 mm | 1,6 kg |
| 5x | 0,15 mm | 2,1 kg |
| 4x | 0,18 mm | 3,0 kg |
| 3x | 0,20 mm | 3,8 kg |
| 2x | 0,23 mm | 4,3 kg |
| 1x | 0,25 mm | 5,4 kg |
| 0x | 0,28 mm | 6,1 kg |
About Scientific Anglers:
The American manufacturer Scientific Anglers is known for innovative fly lines that are always ahead of their time. This success story started in 1952 with a ground-breaking invention: the first plastic-coated fly line. In the same manner, Scientific Anglers continues to strive for improvement and innovation. The result of this inspiring company philosophy is an impressive range of premium fly lines and accessories. In addition to modern fly lines, this selection also includes shooting heads, running lines and all kinds of leaders. Therefore, Scientific Anglers offers the perfect line for every type of fishing – whether you're fishing a trout stream or a saltwater flat!