Article successfully added.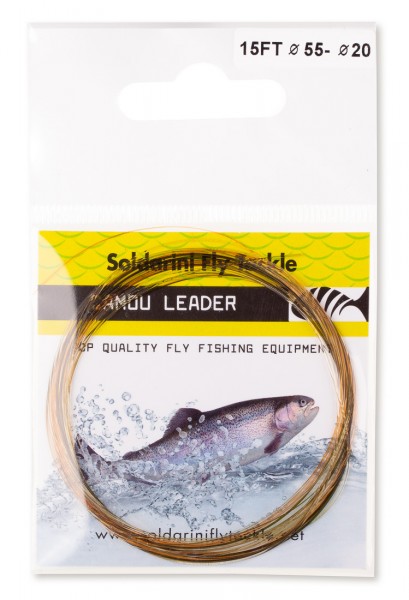 Soldarini Fly Tackle Euro Nymph Camou Leader 15ft
Content:
4,5 meter (€1.54 * / 1 meter)
Prices incl. VAT plus shipping costs
In stock. Delivery time 1 - 3 work days.
Soldarini Fly Tackle Euro Nymph Camou Leader 15ft
In tight line nymphing (e.g. 'French Nymphing') super long and extra-fine leaders are used. The main goal is to get a nearly direct connection to the nymph - without dragging it through the current. Even the most delicate takes can be recognized, due to special leaders with minimal stretch and because of lightweight rods with sensitive tips (#2 - #4 with a length of 10ft. - 11ft.). In contrast to a lot of other nymphing techniques, the take is no longer visual, but can actually be felt in the blank. Therefore no ordinary, floating strike indicators are used. Instead, a 'sighter' is placed in-between the tapered leader and the level line tippet. This sighter helps to follow the drift and indicates if there is too much slack or too much tension in the system. When done correctly, the result is an extraordinary strike detection.
The 'Camou Nymph Leader' by Soldarini Fly Tackle is developed to do this job! It's made from a special multicolored monofilament (black, green, brown) for less light reflections. That means you can fish at close range even in sunny conditions. Stealth mode on! It has nearly no stretch, shows high abrasion and no memory! The advantages are obvious: The smallest nymphs can be presented very precisely and it's easier to get in touch with your nymph close to the river bottom. Much better than with ordinary leaders!
It has a total length of 15 ft. which makes it to an all-around nymph leader. Also, dry flies can be presented with that taper! Still, long drifts are possible and your reach is extended. The leader is tapered down from 0.50mm to 0.20mm and it works just amazing with the Soldarini Czech Drop Indicators or the 'Curly Q' (Micro Spiral Indicator). As an alternative, you can build your own sighter using the Soldarini Two Tone Indicator Line.
Details:
Tapered Euro Camou Leader (0.50 mm - 0.20 mm)
For nymphs and dry flies
Length: 15 ft. (4,5 m)
Multicolored (black, green, brown)
Less light reflections
No Stretch
No Memory
About Soldarini Fly Tackle:
The Italian manufacturer Soldarini Fly Tackle is known for innovative products with a practice-oriented design. Due to their involvement in the international competition scene, the developers from Soldarini place great emphasis on functionality. Therefore, it is hardly surprising that these products are very popular – especially for modern nymphing techniques. In addition to fantastic rods and reels, Soldarini also offers lines and leaders for targeting trout and grayling with all kinds of techniques. Further, this extensive product range also includes an outstanding selection of flies that are tied on high-quality hooks in a very durable way. Last but not least, the Italian manufacturer also offers modern high-quality fly tying materials with an impressive value for money.