Article successfully added.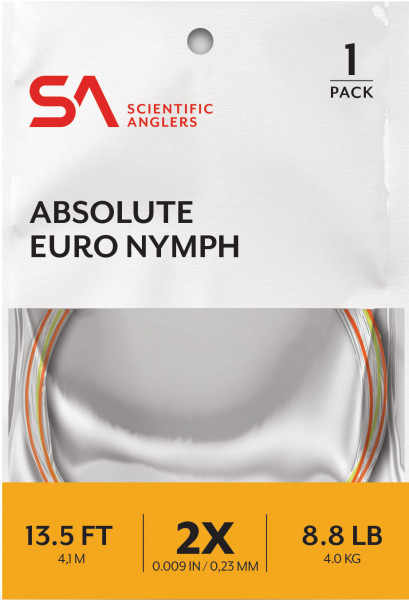 Scientific Anglers Absolute Euro Nymph Leader Sighter 30 ft
Scientific Anglers Absolute Euro Nymph Leader Sighter 30 ft
Absolute - this is the short and concise name of the new leader series from Scientific Anglers.
All Absolute monofilament leaders from Scientific Anglers are made from a special nylon blend that dramatically reduces water absorption while providing optimal suppleness for high knot strength. Absolute nylon leaders and tippets have 29% higher wet knot strength compared to previous Scientific Anglers materials and up to 40% higher wet knot strength compared to many other products on the market. SA's new Absolute series comes with environmentally friendly paper-based packaging and is now 100% recyclable. All materials, inks and other components of the packaging are fully biodegradable to protect our rivers and oceans and reduce our ecological footprint.
The Absolute Euro Nymph Leader from Scientific Anglers is designed from A to Z to meet the needs of modern nymph fishing. With a length of 30 ft. (9.14 m), it is universal and suitable for Euro or French nymphing with long and sensitive rods. The butt section of this rifled nymph leader has a diameter of 36 mm or 51 mm, making it perfect for connecting to thin nymph lines or mono lines. The leader has an integrated three-color sighter (sighting aid) as well as a tip builder ring as a termination. So all you need to do is tie your tippet and a nymph to the tip. Done! The leader has a strength of 3.0 kg and 4.0 kg and can be combined with a variety of different leader tips.


Details:

Special nymph leader for Euro Nymphing or French Nymphing
Integrated, three-colored sighter (white/green/orange)
Velvet leader ring for easy mounting
Length: 30 ft (9,14 m)
Material: Low stretch monofilament
| Size | Diameter (Tippet) | Diameter (Butt) | Load Capacity |
| --- | --- | --- | --- |
| 4X | 0,18 mm | 0,36 mm | 3,0 kg (6,7 lbs) |
| 2X | 0,23 mm | 0,51 mm | 4,0 kg (8,8 lbs) |
About Scientific Anglers:
The American manufacturer Scientific Anglers is known for innovative fly lines that are always ahead of their time. This success story started in 1952 with a ground-breaking invention: the first plastic-coated fly line. In the same manner, Scientific Anglers continues to strive for improvement and innovation. The result of this inspiring company philosophy is an impressive range of premium fly lines and accessories. In addition to modern fly lines, this selection also includes shooting heads, running lines and all kinds of leaders. Therefore, Scientific Anglers offers the perfect line for every type of fishing – whether you're fishing a trout stream or a saltwater flat!