Article successfully added.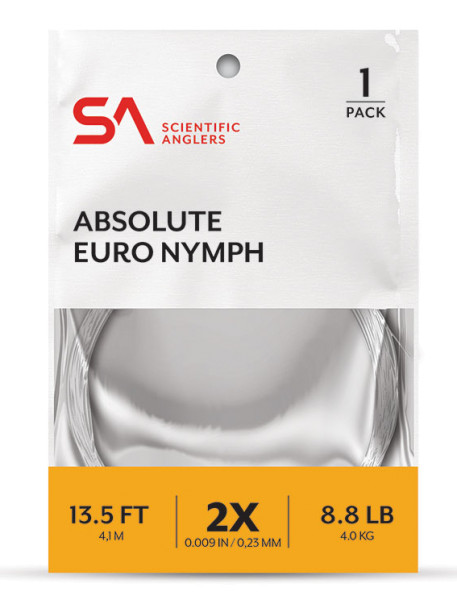 Scientific Anglers Absolute Euro Nymph Leader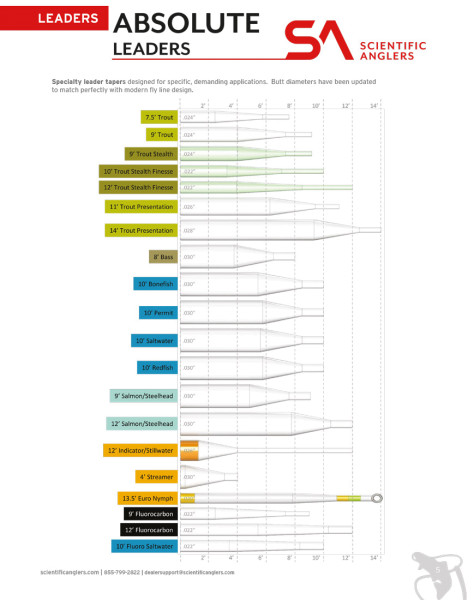 Scientific Anglers Absolute Euro Nymph Leader
Scientific Anglers Absolute Euro Nymph Leader
Absolute - so lautet der kurze und prägnante Name der neuen Vorfach Reihe von Scientific Anglers.

Alle Absolute Monofil Leader von Scientific Anglers werden aus einer speziellen Nylonmischung hergestellt, die die Aufnahme von Wasser drastisch reduziert und gleichzeitig eine optimale Geschmeidigkeit für hohe Knotenfestigkeit gewährleistet. Absolute Nylonvorfächer und Tippets haben eine 29% höhere Nassknotenfestigkeit im Vergleich zu vorherigen Materialien von Scientific Anglers und eine bis zu 40% höhere Nassknotenfestigkeit im Vergleich zu vielen anderen Produkten auf dem Markt. Die neue Absolute-Serie von SA kommt mit einer umweltfreundlichen Verpackung auf Papierbasis und ist jetzt zu 100% recycelbar. Alle Materialien, Farben und sonstigen Bestandteile der Verpackung sind vollständig biologisch abbaubar, um unsere Flüsse und Meere zu schützen und unseren ökologischen Fußabdruck zu verringern.

Das Absolute Euro Nymph Leader von Scientific Anglers ist von A bis Z auf die Bedürfnisse des modernen Nymphenfischens abgestimmt. Mit einer Länge von 13,5 ft. (4,11 m) ist es universell einsetzbar und eignet sich für das Euro bzw. French Nymphing mit langen und sensiblen Ruten. Die Butt Section dieses gezogenen Nymphenvorfachs hat einen Durchmesser von .51 mm und ist deshalb perfekt geeignet, um es mit dünnen Nymphenschnüren zu verbinden. Das Vorfach besitzt einen integrierten dreifarbigen Sighter (Sichthilfe) sowie einen Pitzenbauerring als Abschluss. So brauchst du an die Spitze mit einem Durchmesser von .23 mm (2x) nur noch dein Tippet und eine Nymphe anknoten. Fertig! Das Vorfach hat eine Stärke von 4,0 kg und kann mit einer Vielzahl unterschiedlicher Vorfachspitzen kombiniert werden.

Details:

Spezielles Nymphenvorfach für das Euro Nymphing bzw. French Nymphing
Integrierter Sighter (dreifarbig) samt Vorfachring für einfache Montage
Durchmesser Butt Section: .51 mm
Durchmesser Tip Section: .23 mm (2x)
Tragkraft: 4 kg
Länge: 13,5 ft (4,11 m)
Material: Dehnungsarmes Monofil
About Scientific Anglers:
The American manufacturer Scientific Anglers is known for innovative fly lines that are always ahead of their time. This success story started in 1952 with a ground-breaking invention: the first plastic-coated fly line. In the same manner, Scientific Anglers continues to strive for improvement and innovation. The result of this inspiring company philosophy is an impressive range of premium fly lines and accessories. In addition to modern fly lines, this selection also includes shooting heads, running lines and all kinds of leaders. Therefore, Scientific Anglers offers the perfect line for every type of fishing – whether you're fishing a trout stream or a saltwater flat!