Article successfully added.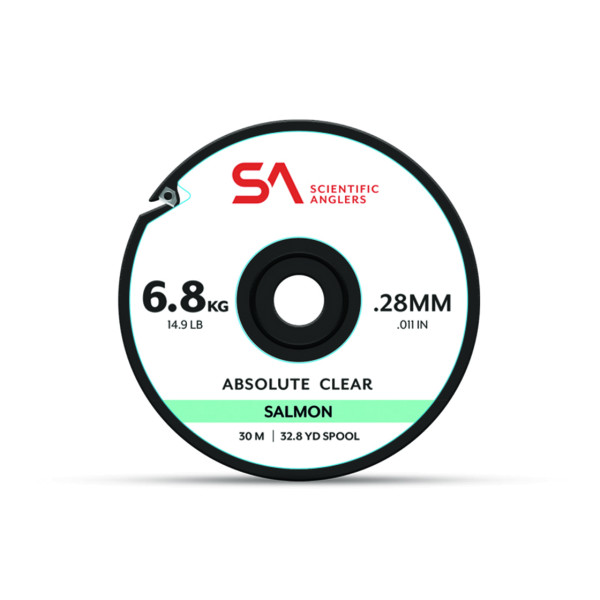 Scientific Anglers Absolute Salmon Tippet Material
Scientific Anglers Absolute Salmon Tippet Material
Absolute - this is the short and concise name of the new leader series from Scientific Anglers.
All Absolute Monofilament Leader materials from Scientific Anglers are made from a special nylon blend that drastically reduces water absorption while maintaining optimum suppleness for high knot strength. Absolute Tippets have a 29% higher wet knot strength compared to previous Scientific Anglers materials and up to 40% higher wet knot strength compared to many other products on the market.
The Absolute Salmon Tippet leader material is particularly well suited for fishing with weighted salmon flies and intruders. It is slightly stiffer so that even weighted flies stretch well in windier conditions and the likelihood of windknots or kinks is minimized. It was especially developed for the use in colder temperatures. The 30 m spools have a sharp cutter and a silicone tape, which protects the high-quality nylon and improves its longevity. In short: A fantastic leader material for salmon, sea trout, steelhead and Co.!
Details:

Allround leader material for salmon, sea trout and steelhead fishing
Material: Monofiles Nylon
High breaking strain
29% higher wet knot strength than previous models
High abrasion resistance
UV-resistant (even in long sunlight the breaking strain is not reduced)
Material: 100% monofilament
color: clear
Content: 30 m
| Diameter | Strength |
| --- | --- |
| 0,28 mm | 6,8 kg / 14,9 lbs |
| 0,33 mm | 9,1 kg / 20 lbs |
| 0,38 mm | 11,3 kg / 25 lbs |
| 0,43 mm | 15,9 kg / 35 lbs |
| 0,48 mm | 18,1 kg / 40 lbs |
About Scientific Anglers:
The American manufacturer Scientific Anglers is known for innovative fly lines that are always ahead of their time. This success story started in 1952 with a ground-breaking invention: the first plastic-coated fly line. In the same manner, Scientific Anglers continues to strive for improvement and innovation. The result of this inspiring company philosophy is an impressive range of premium fly lines and accessories. In addition to modern fly lines, this selection also includes shooting heads, running lines and all kinds of leaders. Therefore, Scientific Anglers offers the perfect line for every type of fishing – whether you're fishing a trout stream or a saltwater flat!