Article successfully added.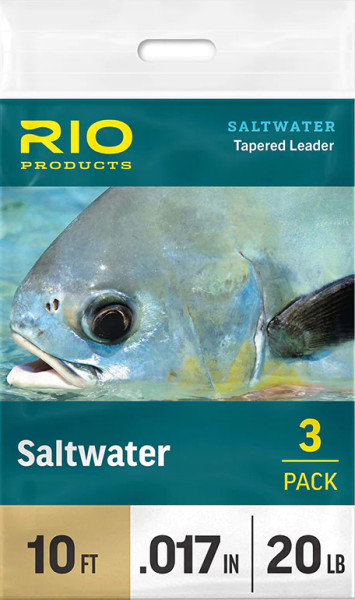 Rio Saltwater Leader 10 ft. 3 pack
Rio Saltwater Leader 10 ft. 3 pack
The Rio Saltwater Leader is an extremely robust and abrasion-resistant leader for tropical saltwater fishing. The taped leader consists of a stiff nylon material, which has excellent unwinding properties and even copes with wind super. Likewise, the nylon is easy to knot and has a very high knot strength, which is an absolute must especially when fishing for the strong fighting warm water fish! The Rio Saltwater Leader with 10 ft can be used for many different species on the flats. It impresses with a stiff, robust and extremely abrasion-resistant nylon in 10ft (3.05m) length.

Details:
Knotless tapered saltwater leader
Medium stiff material with high knot strength
Easy to cast taper design that casts typical saltwater flies
Maximum strength and abrasion resistance
Content: 3 pieces per package
| Class | Test | Diameter | Length |
| --- | --- | --- | --- |
| # 12lb | 6 kg | 0,356 mm | 10ft (3,05m) |
| # 16lb | 8 kg | 0,406 mm | 10ft (3,05m) |
| # 20lb | 10 kg | 0,456 mm | 10ft (3,05m) |
About Rio:
Established back in 1990, the American manufacturer Rio Products is known worldwide for premium fly lines. They are made in Idaho (USA) and they set new standards in many different ways due to the patented Rio technologies. In fact, they offer a truly outstanding performance and great durability. Therefore, they will easily please the most demanding fly fishermen. In addition to modern fly lines, this impressive selection also includes shooting heads, running lines and all kinds of leaders. Therefore, Rio offers the perfect line for every type of fishing – whether you're fishing a trout stream or a saltwater flat!