Article successfully added.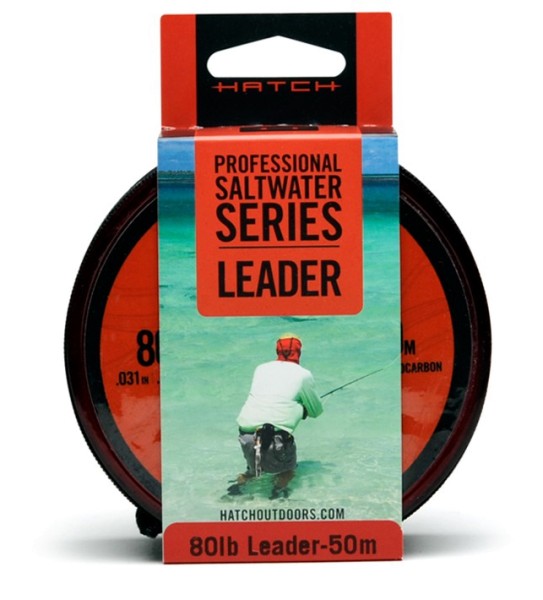 Hatch Professional Saltwater Series Fluorocarbon Leader
Hatch Professional Saltwater Series Fluorocarbon Leader
When fishing saltwater we have to be able to rely on our gear by 100%. Leader and tippet play a very important role in our setup, because we can't accept lossing that ONE fish of the trip due to breakage. This is why we put our trust in the Fluorocarbon leader material by Hatch - our favorite for all tropical destinations. No other material has served us that well during our trips. Aggressive saltwater? High temperatures? Intense sunlight? Many other products loose their knot strength and abbrasion resistance under these harsh conditions with time. The Hatch FC doesn't! It is highly convincing in the long run - until your last cast and the last take.
The Hatch Professional Series Saltwater Leader is manufactured in Japan using the highest grade of fluorocarbon available. This material has a consistent diameter, varying less than half the width of a human hair! The superior strength, low memory, soft texture, and durability of this Leader material makes it the ultimate choice for your big game leaders. Available in 50 meter spools only.
We use it to built leaders for Tarpon and other big fish saltwater species. Can be combined with Hatch's Shock Tippet easily.

Details:
For salt- and freshwater
Nearly unvisible in the water
Slightly sinking
Low memory
High abrasion resistance,
Consistent diameter
Material: 100% Fluorocarbon
Length: 50m
Color: clear
1 pcs./pack
| Size | Diameter | Strength | Length |
| --- | --- | --- | --- |
| 30 lb | 0,47 mm | 13,6 kg | 50 m |
| 40 lb | 0,57 mm | 18,1 kg | 50 m |
| 50 lb | 0,62 mm | 22,7 kg | 50 m |
| 60 lb | 0,70 mm | 27,2 kg | 50 m |
| 80 lb | 0,78 mm | 36,2 kg | 50 m |