Article successfully added.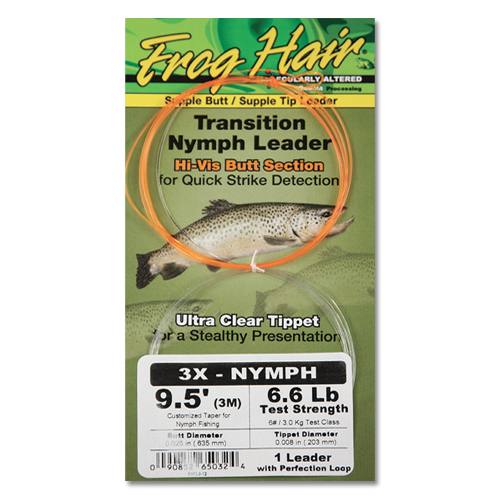 Frog Hair Transition Nymph Leader
Frog Hair Transition Nymph Leader
Nymphing for trout and grayling is exciting and effective! Wheather you prefer tight line techniques ('Euro Nymphing') or more classic approaches: The leader plays an important role in the nymph rig.
The Transition Nymph Leader by Frog Hair can be used in different ways. You can use it on its own and focus on its fluo orange butt section to detect strikes. Or you can combine the 3m long tapered nylon leader with a sighter and fish it tight line. However, the clear tip of this leader results in a stealthy presentation - a big bonus when targeting spooky fish.
Comes with a perfection loop for easy and fast connection with fly line.
Details:
Special nymph leader
Colored butt section
Clear tip
Knotless, tapered
Length: 3m
| Size | Diameter Tip | Strenght |
| --- | --- | --- |
| 5x | 0,152 mm | 2,0 kg (4,4 lbs) |
| 4x | 0,178 mm | 2,5 kg (5,5 lbs) |
| 3x | 0,203 mm | 3,0 kg (6,6 lbs) |