Article successfully added.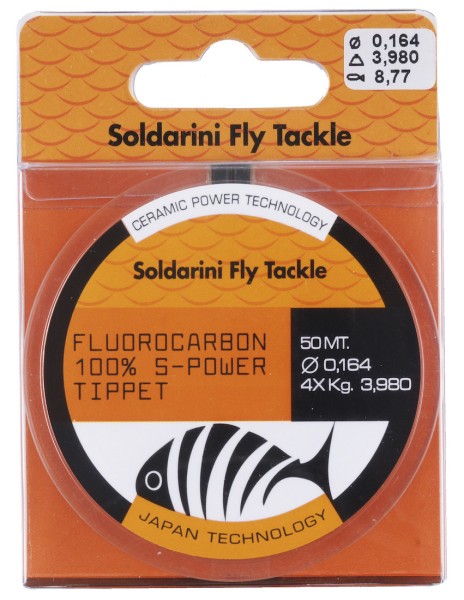 Soldarini Fly Tackle Fluorocarbon S-Power Tippet
Soldarini Fly Tackle Fluorocarbon S-Power Tippet
The S-Power Fluorocarbon is specially designed for fly fishing and produced with the latest generation technology, allowing to obtain a pure fluorocarbon. Pure FC is much softer than conventional material and features a superior knot strength and the lowest light refraction. This makes the S-Power tippet almost invisible when submerged in water. In the end, this new technology allows a more natural presentation making S-Power a great choice for all fly fishing techniques - first of all nymphing and fishing with the streamer.
Soldarini has gained lot of experience during many years of competition fly fishing. This tippet is a result of his hard work.
Details:
High-quality Fluorocarbon
Nearly invisible in the water column
Slightly sinking
High knot strength
High abrasion resistance
Material: 100% Fluorocarbon
Large Arbor Spool for less memory
50 m/spool
Made in Japan
| Diameter | Strength |
| --- | --- |
| 0,008 mm | 1 kg |
| 0,10 mm | 1,6 kg |
| 0,12 mm | 2,3 kg |
| 0,14 mm | 2,95 kg |
| 0,16 mm | 3,98 kg |
| 0,18 mm | 5,1 kg |
| 0,20 mm | 5,95 kg |
| 0,22 mm | 6,83 kg |
| 0,25 mm | 8,67 kg |
About Soldarini Fly Tackle:
The Italian manufacturer Soldarini Fly Tackle is known for innovative products with a practice-oriented design. Due to their involvement in the international competition scene, the developers from Soldarini place great emphasis on functionality. Therefore, it is hardly surprising that these products are very popular – especially for modern nymphing techniques. In addition to fantastic rods and reels, Soldarini also offers lines and leaders for targeting trout and grayling with all kinds of techniques. Further, this extensive product range also includes an outstanding selection of flies that are tied on high-quality hooks in a very durable way. Last but not least, the Italian manufacturer also offers modern high-quality fly tying materials with an impressive value for money.