Article successfully added.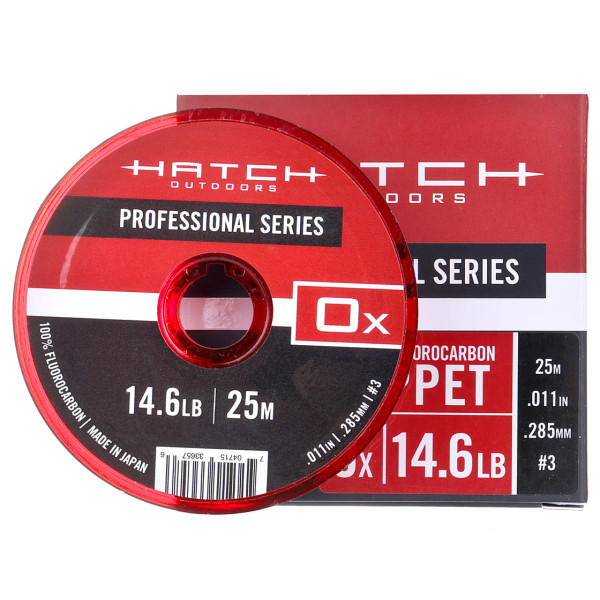 Hatch Professional Series Fluorocarbon Tippet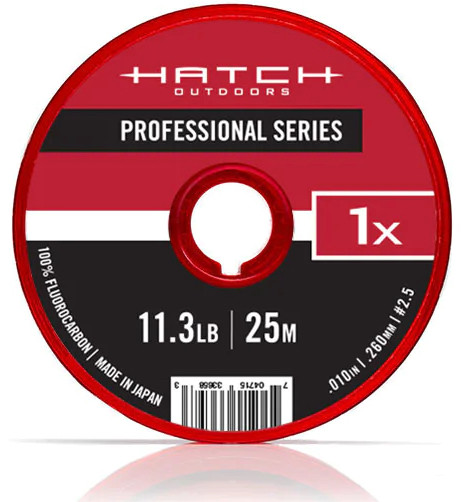 Hatch Professional Series Fluorocarbon Tippet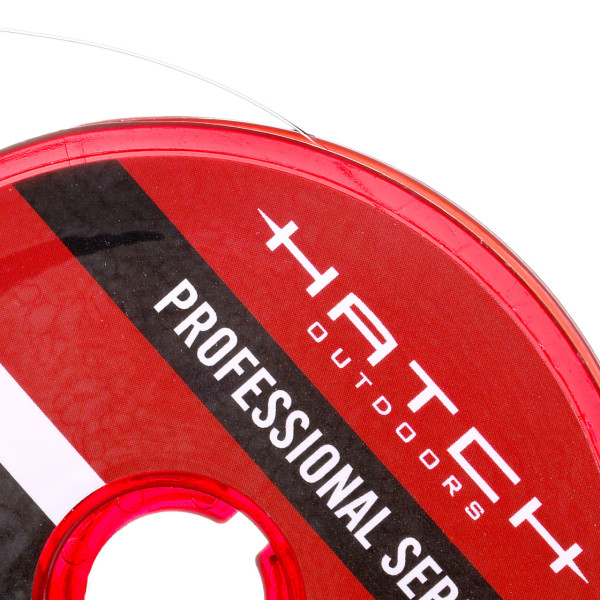 Hatch Professional Series Fluorocarbon Tippet
Hatch Professional Series Fluorocarbon Tippet
When it comes to challenging streamer fishing, you need to be able to rely on the tippet material - because the chance to catch the fish of the trip may only come once. That's why Hatch's 100% fluorocarbon leader material is our absolute favorite. No other tippet material has served us so well in high temperatures and strong sunlight. While the load-bearing capacity and knot strength of other materials diminishes over time under these particular conditions, Hatch's FC continues to impress with full performance over time.
Like any other FC, Hatch's Fluorocarbon has two major advantages: First, FC has a comparable light refractive index to water. This means that leaders made of FC are almost invisible in the water. In crystal clear waters, it therefore often has the edge over conventional leaders made of nylon (monofilament). Secondly, fluorocarbon sinks easily, while nylon floats on the surface. For this reason, and also because of its higher abrasion resistance, FC is often used where stones or other structures create danger in the drill.
Details:
Suitable for saltwater and freshwater
Almost invisible in the water
Sinks easily
High wet knot strength
Very high abrasion resistance
UV resistant (even long exposure to sunlight does not reduce the carrying capacity)
Material: 100% fluorocarbon
Length: 25m
Color: clear
1 pcs/pack
| Size | Diameter | Weight | Length |
| --- | --- | --- | --- |
| 0X | 0,285 mm | 6,6 kg | 25 m |
| 1X | 0,260 mm | 5,1 kg | 25 m |
| 2X | 0,235 mm | 4,4 kg | 25 m |
| 3X | 0,205 mm | 3,4 kg | 25 m |
| 4X | 0,185 mm | 2,9 kg | 25 m |
| 5X | 0,148 mm | 2,0 kg | 25 m |
| 6X | 0,128 mm | 1,6 kg | 25 m |
| 7X | 0,104 mm | 1,1 kg | 25 m |
About Hatch:
Hatch Outdoors was founded in 2003 with the intention of developing a fly reel that would raise the bar for all manufacturers. Over the years, Hatch has pushed the boundaries of innovation with the development of award-winning products such as the Hatch reels, as well as the famous Nomad tongs, and continues to push boundaries today. Hatch Outdoors is a family-owned and operated company that uses only the highest quality materials and state-of-the-art machining techniques in the production of its iconic fly fishing reels. Impressive and well-known is certainly the reel foot made from one piece, which made so some fly fishermen Hatch Finatic.