Article successfully added.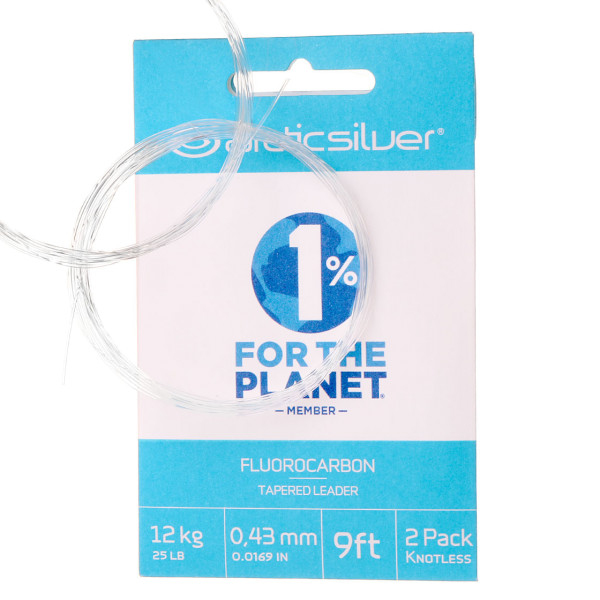 ArcticSilver Tapered Leader Fluorocarbon 9 ft. 2-Pack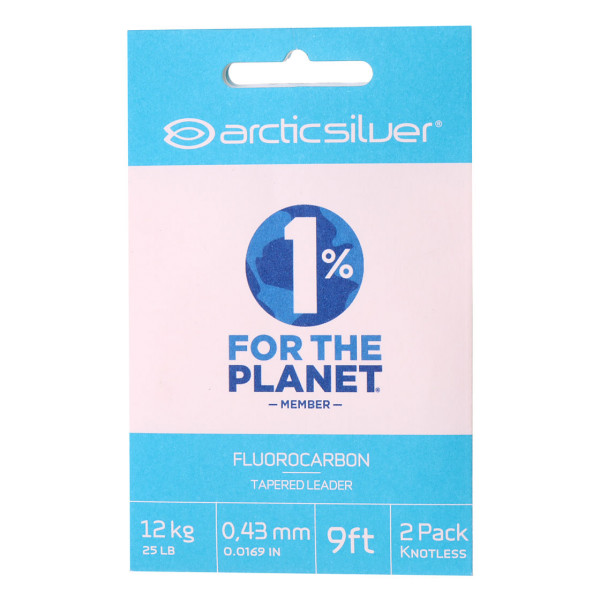 ArcticSilver Tapered Leader Fluorocarbon 9 ft. 2-Pack
was

€18.90 *

(15.34% Saved)
From €16.00 *
Content:
5,48 meter (€2.92 * / 1 meter)
Prices incl. VAT plus shipping costs
ArcticSilver Tapered Leader Fluorocarbon 9 ft. 2-Pack
Arctic Silver from Scandinavia does not have to hide in terms of leader material and leaders. Especially the products made of fluorocarbon are used by many passionate Sea Trout and Salmon anglers. The high quality raw material is 100% made in Japan and is processed with the most modern technology.

If you expect more from your leader, then you should take a close look at the Tapered Leaders from ArcticSilver! Because the strength on the respective diameter is absolutely convincing. In addition, the special taper is very well suited to carry your fly easily and present it delicately. Even in strong winds, the construction of this tapered leader allows you a good turn-over. The 9ft. leader variant is used by us mainly for sea trout fishing - but also for trout fishing on the lake or using a streamer on the river. In many situations you are well advised with a FC Leader! Due to the high UV resistance of the ArcticSilver materials you can use this leader without hesitation even in the tropics!

Fluorocarbon offers several advantages over conventional monofilament nylon: On the one hand, FC has a refractive index comparable to water and becomes almost invisible under water. Especially wherever the scouring effect of the leader plays a major role in crystal clear water, nylon often cannot keep up. On the other hand, fluorocarbon has a higher density and sinks slowly, while nylon floats on the surface and draws a furrow in the film. For this reason, and also because of its higher abrasion resistance, FC is popular for Salmon, streamer or nymph fishing. In saltwater, too, Fluorocarbon is now the first choice for many fly fishers, because it is precisely there that obstacles in the water can often cause additional friction - both on the Baltic Coast and in the tropics, where hard mouths also cause higher abrasion on the leader. In addition, fluorocarbon is much more UV-resistant than nylon and its strength does not decrease even with prolonged use.

Due to their great knot strength and functional taper these leaders are a clear buy recommendation! Plus, when you buy Arctic Silver products, you're doing something good, because 1% of the profits here go back to the planet.


Details:
Tapered leaders
Material: 100% Japanese Fluorocarbon
Suitable for fresh- and saltwater
High knot strength
Exceptional abrasion resistance
Almost invisible in the water
Sinks slowly in the water thanks to high material density
Smooth presentation and perfect turn over
UV resistant (even long exposure to sunlight does not reduce the strength)
Partner of the '1% for the Planet' initiative
Packaging made of 100% recycled material
Color: clear with minimal light reflection
Length: 9 ft. (2.74 m)
Content: 2 pcs./pack
| Model | Diameter Tip | Strength | Length |
| --- | --- | --- | --- |
| 05 X | 0,43 mm | 12,0 kg (25 lbs) | 9 ft. (2.74 m) |
| 04 X | 0,41 mm | 8,0 kg (17 lbs) | 9 ft. (2.74 m) |
| 03 X | 0,39 mm | 7,0 kg (15 lbs) | 9 ft. (2.74 m) |
| 1 X | 0,26 mm | 4,5 kg (10 lbs) | 9 ft. (2.74 m) |
| 2 X | 0,24 mm | 3,6 kg (8 lbs) | 9 ft. (2.74 m) |
| 3 X | 0,21 mm | 2,7 kg (6 lbs) | 9 ft. (2.74 m) |
| 5 X | 0,15 mm | 1,8 kg (4 lbs) | 9 ft. (2.74 m) |
About ArcticSilver:
First of all, the Norwegian manufacturer ArcticSilver is known for a truly innovative range of fly rods. All of these rods have one unique feature in common: the so-called Free-Flex-System including the Quick-Lock reel seat. This patented design allows the blank to swing inside the handle, which creates outstanding casting and fish fighting properties. In fact, ArcticSilver offers many different models that are suitable for a variety of different fly fishing disciplines – whether casting delicate dry flies for trout or massive streamers for large predators. In addition, ArcticSilver also presents a large selection of modern fly lines that have a very thin diameter due to their so-called Micro Diameter (MD) design. This design allows record-breaking casting distances thanks to minimum friction in the rod guides and hardly any air resistance. In fact, these advantages are not only noticeable in combination with an ArcticSilver fly rod, but also with rods from other manufacturers.