Article successfully added.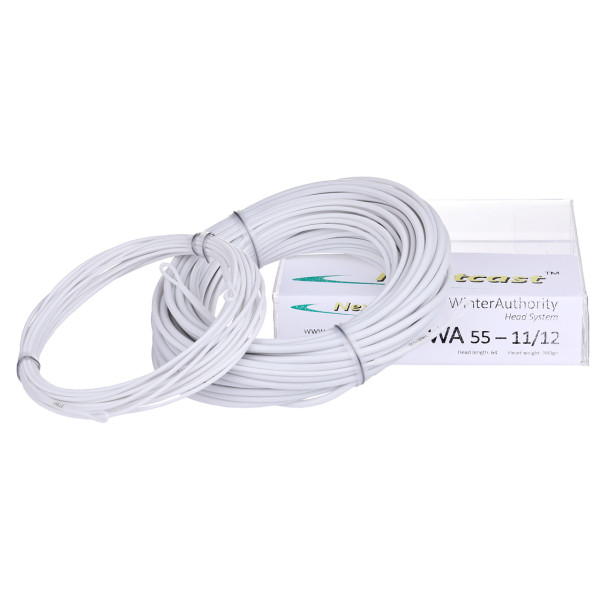 Nextcast Winter Authority WA55 FF Shooting Head Floating
Nextcast Winter Authority WA55 FF Shooting Head Floating
The shooting head systems from NEXTCAST are becoming increasingly popular. Especially among ambitious salmon and steelhead anglers, a true hype has been ignited in recent years around the well though-out shooting heads. We have also learned to love the adapted, user-friendly tapers and let the terrific casting characteristics put a smile on our faces every time. In addition to the very popular two-handed shooting heads and the matching tips and running lines, the extensive collection also includes very successful lines for modern streamer fishing for trout. We especially like the fact that you can definitely find the right line for every casting style and water condition in the Nextcast range.
Winter Authority 55 - for Spey Enthusiasts
The NextCast Winter Authority 55 is a floating shooting head with an interchangeable 15 ft. tip. The length of the shooting head is specifically designed for long casts and fishing in larger rivers. Spey casters will thoroughly enjoy this shooting head and will be rewarded with beautiful loops and excellent energy transfer throughout the entire length of the line. This is mainly due to the special, funnel-shaped taper and weight distribution, which allows for such length to be cast with utmost control. Not only is it incredibly fun to lay these lines on the other side of a mighty river, but it also trains your casting skills and makes you a better Spey caster. Due to its length, we recommend using this shooting head especially with longer double-handed rods. The included floating tip can be easily swapped for a faster sinking 15 ft. tip to adapt to different weather or water conditions.
Details:
Long belly Spey shooting head
Powerful taper for effective, long casts
Floating shooting head (body)
Interchangeable tip system: extremely versatile (floating tip included)
Reliable welded loops at both ends
Line-ID: Clear labeling for quick and easy identification of the line - no confusion!
Color: white
| Recommended Class | Weight (withough tip) | Length (without tip) |
| --- | --- | --- |
| #8/9 | 42,1 g | 16,8 m |
| #9/10 | 47,3 g | 17,7 m |
| #/10/11 | 51,8 g | 18,9 m |
| #11/12 | 57 g | 20,1 m |
About Nextcast:
As in every season, the lines from the American manufacturer Nextcast cause a sensation along salmon rivers all over the world. Due to their truly innovative design, they offer absolutely amazing and very unique casting properties. First of all, they are surprisingly easy to cast. Furthermore, their extremely powerful casting properties always allow a successful presentation – even in challenging conditions. In addition to the very popular double-handed shooting heads, matching tips and running lines, this large collection also includes fantastic lines for targeting trout with streamers. These lightweight shooting heads have a lot in common with their larger relatives – but in a much smaller dimension. Like all Nextcast lines, they allow a new level of efficiency, which will easily please the most demanding fly fishermen.