Article successfully added.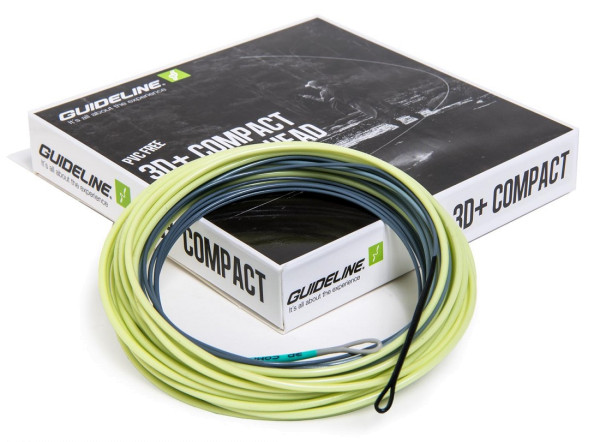 Guideline Power Taper 3D+ Compact Shooting Head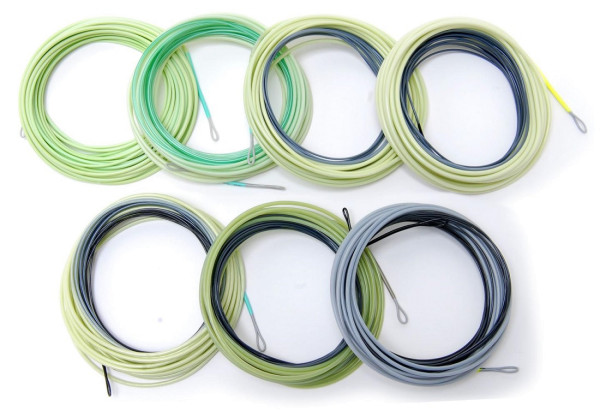 Guideline Power Taper 3D+ Compact Shooting Head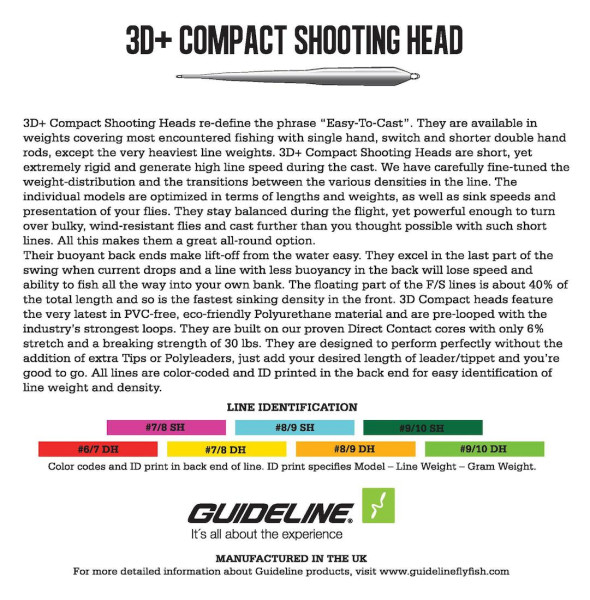 Guideline Power Taper 3D+ Compact Shooting Head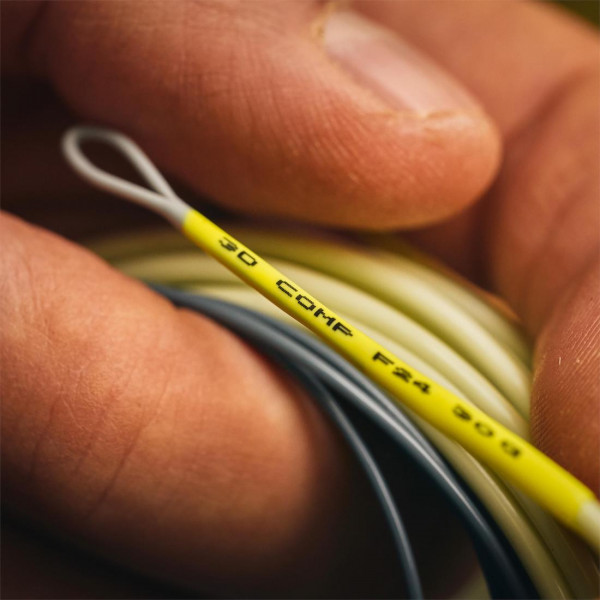 Guideline Power Taper 3D+ Compact Shooting Head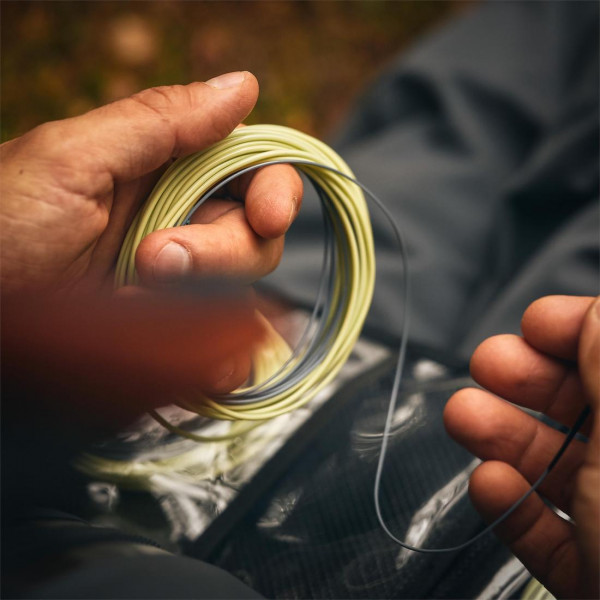 Guideline Power Taper 3D+ Compact Shooting Head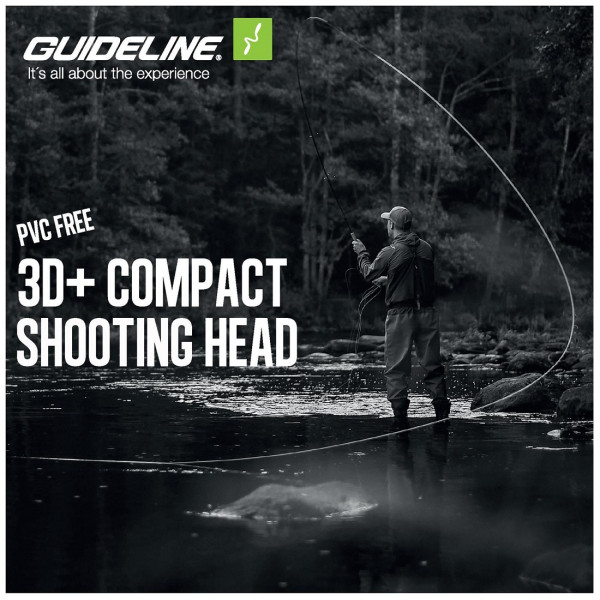 Guideline Power Taper 3D+ Compact Shooting Head
Guideline Power Taper 3D+ Compact Shooting Head
20% on selected Guideline items (Black Week)

Deal valid until 30.11.2023 and while stocks last. Also valid for on-sale items. The (extra) discount will be displayed in your Basket.
Browse all Black Week Deals for Fly Fishing.
*1
*1 Offer valid until 01/12/2023
Guideline Power Taper 3D+ Compact Shooting Head
With the Power Taper 3D+ shooting heads, the Salmon and Sea Trout experts from Guideline in Norway have developed a sophisticated system that covers the vast majority of scenarios on the fishing water. The wide range of different lengths and weights is designed for single-handed rods, shorter two-handed rods and Switch rods.

For us, these heads are the perfect example of 'Easy To Cast' and a great addition to Guideline's lineup. They are short, but extremely stiff. They are incredibly stable in the air and cast very precisely. The team at Guideline has spent a lot of time fine tuning the weight balance, the individual lengths and the transitions between the different densities to optimize them both in terms of sink rate and in terms of presentation and control in the water. The ability to stay balanced yet powerful enough to cleanly turn-over and cast even bushy, wind-resistant flies farther than you'd think possible with such short lines make the Power Taper 3D+ Compact Shooting Heads a great all-around option. For advanced casters and beginners alike!

The floating rear end of the shooting heads makes lifting off the water very easy and makes casting noticeably easier. But also in the last part of the presentation or swing you enjoy great advantages with these heads: if the current decreases and a line with less buoyancy in the rear part clearly loses speed, then you can continue fishing with the Power Taper 3D+ Compact shooting heads to your own bank. And quite often the take still comes here! The floating part of the F/S lines makes up about 40% of the total length and is therefore the fastest sinking density in the front area. The 3D Compact heads are made from the latest PVC-free, environmentally friendly polyurethane material and feature the strongest loops in the industry. They are built on Guidelines proven Direct Contact™ cord core with only 6% elongation and a breaking strength of 30 lbs. And most importantly, the heads are designed to work perfectly without the need for additional tips or polyleaders. Just add the desired length of leader/tippet and you're ready to go. Simple and effective!

All lines are color coded and ID printed on the back end for easy identification of line weight and density. The colors of the individual lines and the lengths of the different sink rates can be found in the table.
TLT (Triple Layer Technology) & Direct Contact™ Core
Complex, multiple density and hardness in the coating of these shooting heads provide a unique casting experience. A new, revolutionary chemical formula and three different coating materials control both hardness and memory and density in different parts of the lines. This results in better casting performance, more efficient fishing and bite detection, and increased durability. Triple Layer Technology (TLT) gives Guideline the ability to build lines that float well and repel water better and more effectively than any line Guideline has produced before. Built on braided Direct Contact™ Core with only 6% elongation.
Eco Advantages
Guidelines eco-vision is 'Clean All the Way', which means that the Norwegians pollute the environment as little as possible. This fly line has a polyurethane coating instead of PVC, which releases harmful plasticizers (phthalates) into the water. Guidelines boxes are also made from recycled paper with a water-based UV coating, and all plastic spools have been removed from the packaging. The result is that you get the 'cleanest' and most environmentally friendly fly line on the market.
Details:
Short one-handed and two-handed shooting heads
Powerful, compact taper with strong turnover and high shooting power
Super durable loops on both ends
Line ID for quick line identification
Color code for easy identification
Ideal for shorter two-handed rods, switch rods and single-handed rods
3D Concept:
Improved depth control and sink rate
Facilitates the lifting of the line from or out of the water
Results in high control over the swing
Reduced risk of line hang-ups on the bottom
| Class | Belly Weight | Belly Length (F to F/3/5) | Belly Length (I/4/6 & S2/5) | Color Code |
| --- | --- | --- | --- | --- |
| 3D+ Compact SH #7/8 | 19 g / 290 grains | 7,6 m | 7,2 m | Purple |
| 3D+ Compact SH #8/9 | 21 g / 324 grains | 7,6 m | 7,5 m | Light Blue |
| 3D+ Compact SH #9/10 | 23 g / 356 grains | 8,1 m | 7,5 m | Olive |
| 3D+ Compact SW/DH #6/7 | 26 g / 401 grains | 8,3 m | 7,8 m | Red |
| 3D+ Compact SW/DH #7/8 | 30 g / 463 grains | 8,3 m | 8,0 m | Yellow |
| 3D+ Compact SW/DH #8/9 | 33 g / 510 grains | 8,5 m | 8,2 m | Orange |
| 3D+ Compact SW/DH #9/10 | 37 g / 570 grains | 8,7 m | 8,4 m | Green |
About Guideline:
The Scandinavian cult brand Guideline offers almost everything that you need for fly fishing. In addition to modern rods and reels, this impressive selection also includes high-quality wading clothes and all kinds of accessories. In fact, all Guideline products have one thing in common: They combine a practice-oriented design with an outstanding value for money. This applies for all price levels – from entry-level to premium models. Furthermore, Guideline places great emphasis on sustainability, which leads to eco-friendly production methods and an inspiring company philosophy.