Article successfully added.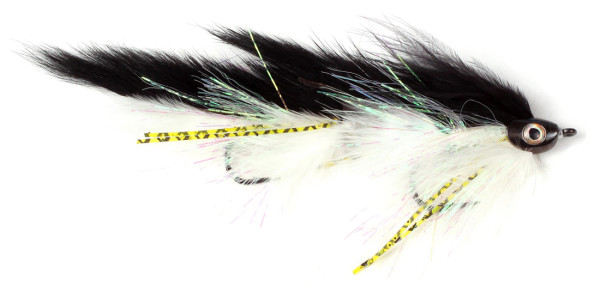 Guideline Streamer - Scull Bunker Zonker black/white
Guideline Streamer - Scull Bunker Zonker black/white
High quality streamer from Guideline (Norway), tied with the best materials and designed by well-known Scandinavian fly tyers.

Your heart beats for big, wild Brown Trout? Then the Scull Bunker streamers from Guideline are just the right lures for you. Designed for Trout fishing in the river, these patterns produce an attractive pulsation when stripping and in the current. The designer of this streamer - Emil Westrin - says that he prefers to fish it upstream and in the strip. Because then the Scull Bunker provokes the hardest attacks. Therefore you should use a strong leader of at least 0.20mm. The streamer is about 10 cm long and weighs about 2.5 grams when dry. It is tied with a very high quality stinger, which provides first-class hooking properties. The body of fluffy zonker is tied on a shank and weighted with a Fish Scull mask from Flymen. This helps you to present the Scull Bunker deeper more easily!

For the perfect presentation we recommend a short leader, no longer than 1.5m. It's best to use a loop/rapala knot to give the fly maximum movement. Streamers require fly lines with a powerful turn over - e.g. the Power Presentation from Guideline. And if it needs to be a little deeper, we recommend a short sink tip. Besides the use on big Brown Trout, you can also use the Scull Bunker for Zander, Perch and Asp.