Article successfully added.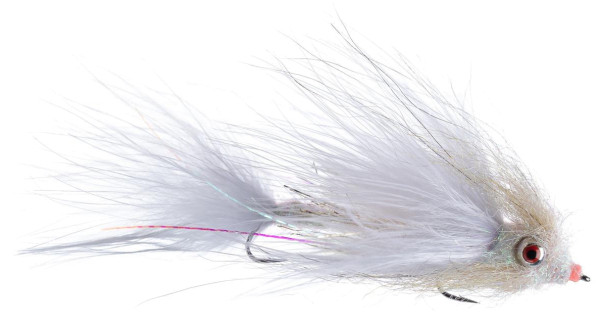 Guideline Streamer - Dragon Mini Bond whitey
Guideline Streamer - Dragon Mini Bond whitey
The small Dragon tied by John Bond is a very agile streamer and the ultimate weapon when it comes to catching big trout. The Dragon Mini Bond is tied on two hooks, so in the strip breaks or in strong currents there is extra play! The fish find this very attractive! But it's not just the hinge that makes the Dragon so mobile, the materials used give excellent play underwater and add that kick of extra appeal. Because the streamer consists of lots of marabou, which strikes out even with the slightest movement. In combination with the two-hook tying method, the Dragon Mini Bond is one of the most flexible streamers we know!
Whitey
The Whitey color, or simply white, is a good choice in clear to slightly cloudy waters and bright skies. The rather inconspicuous color then has a special attraction to the fish, while a bright color on bright days can tend to scare them away.

Details:
Very mobile trout streamer
Also top for perch
Tied on two hooks
Movable joint
A lot of marabuo for extra play
Color: Whitey
About Guideline:
The Scandinavian cult brand Guideline offers almost everything that you need for fly fishing. In addition to modern rods and reels, this impressive selection also includes high-quality wading clothes and all kinds of accessories. In fact, all Guideline products have one thing in common: They combine a practice-oriented design with an outstanding value for money. This applies for all price levels – from entry-level to premium models. Furthermore, Guideline places great emphasis on sustainability, which leads to eco-friendly production methods and an inspiring company philosophy.