Article successfully added.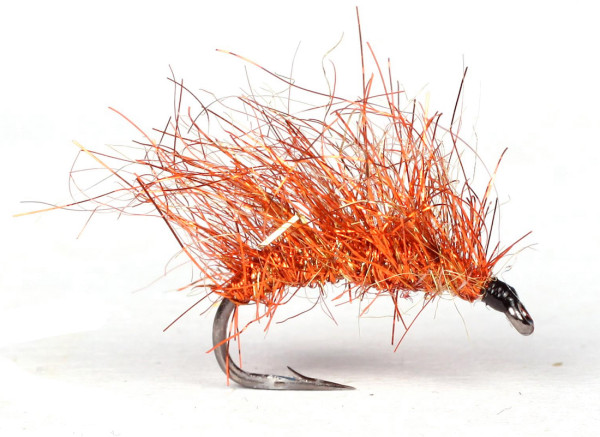 Guideline Sea Trout Fly - Kobberbassen
Guideline Sea Trout Fly - Kobberbassen
High-quality fly by Guideline (Norway). Tied with the best materials and strong hooks. Designed by well-known scandinavien fly tyers.
It's not all flies that are lucky enough to have their own fan club on Facebook - "Kobberbassen-venner". Some fishermen are even of the opinion that this is the only fly you need. Kobberbassen imitates a crustacean, a gammarus/seaweed flea that lives in the vegetation in close to the shore.

This fly is fished with both short- and longer distinct retreives, from only 10cm to almost half meter. If there is calm weather and little wind you can use long, thin leaders for such fishing. Up to two rod lengths and down to 4X/0,18mm tippet. This is a good strategy, especially if the fish is up and rising. If you are able to see the direction of the fish, present the fly carefully a bit away from the rise. If you cannot see the direction, it's wise to wait for the next rise before you present your fly, rather than running the risk of spooking the fish. Delicate presentations and patience is half the job in these conditions, also pay attention while the fly sinks and keep focus on the tip of the line. Trout sometimes take the fly in this phase too.

The crustaceans are also exposed as prey when the waves strike sharply against land. Then the stream will sometimes force various crustaceans out of the hiding places. The sea trout know this and patrol quite close to land under such conditions.
About Guideline:
The Scandinavian cult brand Guideline offers almost everything that you need for fly fishing. In addition to modern rods and reels, this impressive selection also includes high-quality wading clothes and all kinds of accessories. In fact, all Guideline products have one thing in common: They combine a practice-oriented design with an outstanding value for money. This applies for all price levels – from entry-level to premium models. Furthermore, Guideline places great emphasis on sustainability, which leads to eco-friendly production methods and an inspiring company philosophy.