Article successfully added.
Guideline Sea Trout Fly - Bead Head Wiggle Tail Borstemark black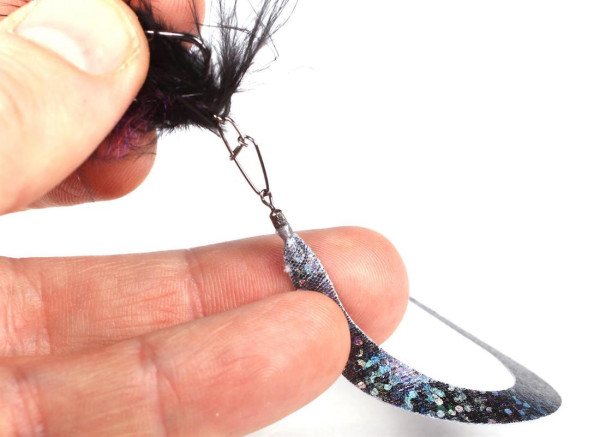 Guideline Sea Trout Fly - Bead Head Wiggle Tail Borstemark black
Quantity
Unit price
To

2

€7.90 *
From

3

€7.50 *
Prices incl. VAT plus shipping costs
In stock. Delivery time 1 - 3 work days.
15% on Flies (except Fulling Mill and Catchy Flies)

Deal valid until 21.09.2023 and while stocks last. The discount will be displayed in your Basket.
*1
*1 Offer valid until 22/09/2023
Guideline Sea Trout Fly - Bead Head Wiggle Tail Borstemark black
High-quality fly by Guideline (Norway). Tied with the best materials and strong hooks. Designed by well-known scandinavien fly tyers.
Wiggle Tail Børstemark (bristle worm) has the same originator as Pattegisen. In Denmark, Claus Eriksen's pattern is described as a small revolution. No other bristle worm imitation is anywhere near as lively as the Wiggle Tail Børstemark. Bristle worm imitations are particularly relevant in the period March to early May. But this fly has been proven to catch sea trout all year. This pattern comes with a bead head and is therefor a true allrounder and suitbale for many different situations and spots.

This pattern is tied like the original with swivel mounted on the hook and tail. This helps to counteract that the tail hooks into the hook bend and provides maximum freedom of movement. The tail is original Pacchiarini Wiggeltails made of a strong synthetic material that is also used for pike flies. It is a thin textile cloth that can withstand sharp teeth and hard fishing hour after hour. The fly is 12cm long when lightly stretched out. We recommend that you soak the fly with water before you start fishing to get rid of the annoying flapping noise a dry tail makes when you are casting.
About Guideline:
The Scandinavian cult brand Guideline offers almost everything that you need for fly fishing. In addition to modern rods and reels, this impressive selection also includes high-quality wading clothes and all kinds of accessories. In fact, all Guideline products have one thing in common: They combine a practice-oriented design with an outstanding value for money. This applies for all price levels – from entry-level to premium models. Furthermore, Guideline places great emphasis on sustainability, which leads to eco-friendly production methods and an inspiring company philosophy.