Article successfully added.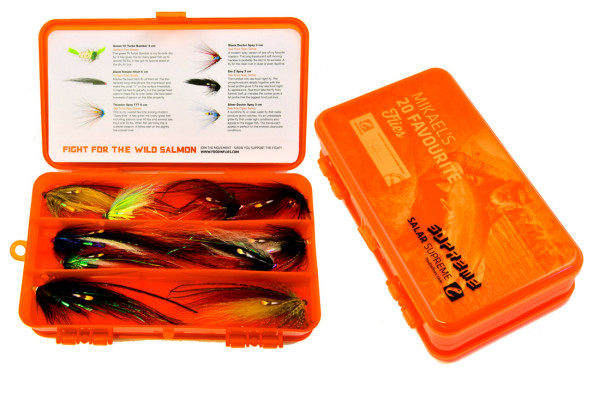 Frödin Fly Selection Mikaels 20 Favourite Flies
Frödin Fly Selection Mikaels 20 Favourite Flies
The right pattern for every situation!

Frödin Fly Selection fly sets are carefully assembled by Mikael Frödin, whose experience is based on thousands of hours on the water and on various rivers. Each of the sets is tailored to specific weather and water conditions and times of day, so that a suitable pattern for the current conditions can always be found - extremely helpful especially for beginners.
This Frödin set contains 20 of Mikael's favourite flies and comes complete with a Frödin Salar Supreme fly box. In the lid of the boxes there is also a tear and waterproof description and short instructions of the enclosed samples, which give information about specific ways of handling the flies as well as hints about the purpose of each sample - this makes it much easier to find the right fly! Of course, the flies in the Frödin Fly Selection are absolutely perfectly tied patterns. For their production, high-quality binding materials from Mikael Frödin's own range are used, such as 'Salar Synthetic Series' (SSS) and 'Frödin's Improved Tube System' (FITS).

The high quality Frödin Fly Selections make it easy to choose a suitable pattern in a variety of fishing conditions, so that you can concentrate fully on the perfect swing.

Mikaels 20 Favourite Flies: 20 of Mikaels favourite flies "Salar Supreme Fly Box Micro/Hook" fly box
About Frödin Flies:
The Swedish manufacturer Frödin Flies is known worldwide for innovative salmon flies and tying materials. This brand was founded by Mikael Frödin – one of the most influential salmon anglers of our time, who is constantly pushing forward with his products and ideas. In addition to an extensive range of accessories, Frödin Flies also offers you the perfect rods and reels for salmon fishing. Without a doubt, they will easily please the most demanding salmon anglers due to their fantastic design and outstanding quality. Last but not least, according to the slogan "Fight for the Wild Salmon" the Frödin Flies team is constantly fighting for the protection of our wild salmon stocks.