Article successfully added.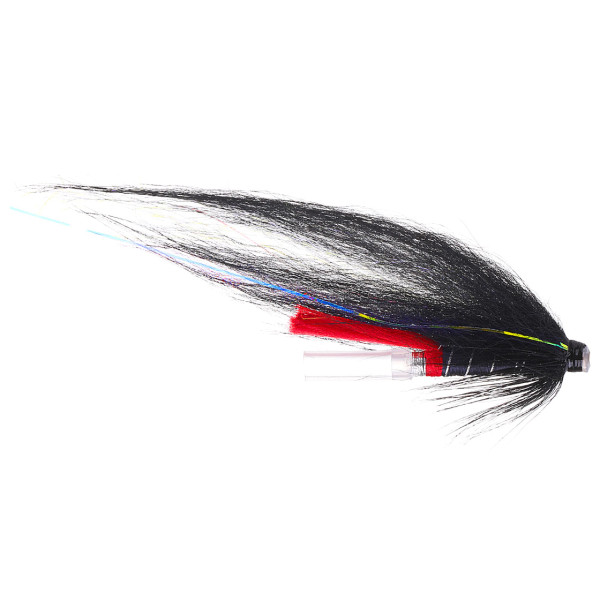 TD _Red _Butt
Superflies Salmon Fly - TD Red Butt
Black always works, and that certainly applies to salmon too! The Red Butt is a classic salmon and sea trout fly that catches fish even when the water levels are low and the water temperatures are high. This fly is not only used in the well-known salmon rivers of Norway and Sweden but also for night-time sea trout hunting in the local river systems of Germany or Denmark. The wing made from high-quality Temple Dog hair plays enticingly in the current, even at low speeds. Therefore, this pattern is particularly interesting for summer fishing with lower water levels and challenging conditions.
For us, this fly is an absolute must when it comes to salmon fishing in the summer, whether it's in Iceland, Norway, Russia, or the UK. And especially migratory sea trout rarely resist the black silhouette in fading light. The subtle flash and the red tail, from which the fly gets its name, give the fly that special "something."
Details:
High-quality tube fly from Superflies for salmon and more
An excellent choice for summer conditions and clear water
Very durable and tied from premium materials
Wing made from high-quality Temple Dog hair
Tied on a plastic tube
| Tube Length | Wing Length |
| --- | --- |
| 1/2" | 3 cm |
| 1" | 6 cm |
About Superflies:
The flies from the Scandinavian manufacturer Superflies are extremely popular all over the world – especially the large collection of premium salmon flies. In addition to timeless classics, this impressive selection also includes countless modern patterns that have been extremely effective in recent years. In fact, all of these flies have one thing in common: their outstanding quality. Therefore, they consist of high-quality materials tied in a very durable way. Summarized, Superflies offers the perfect salmon fly for every type of fishing – whether a tiny hitch or a heavily weighted tube fly.