Article successfully added.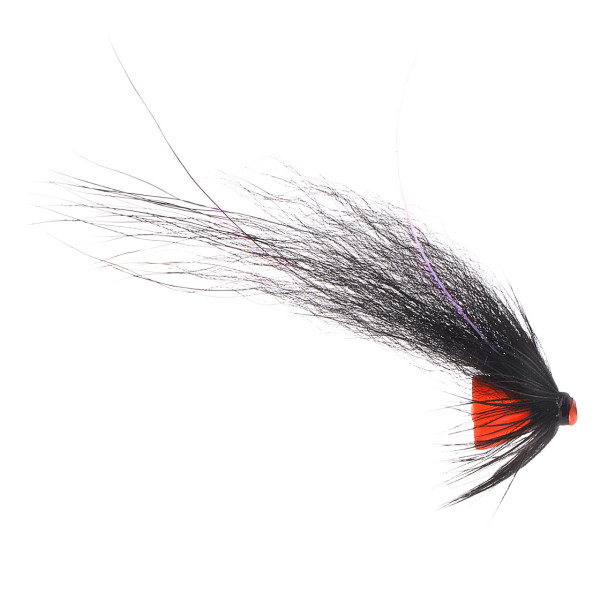 Pikkumusta _Fl. Orange _Tungsten _Conehead
Superflies Salmon Fly - Pikkumusta Fl. Orange Tungsten Conehead
Pikku means "small" and Musta "black", so this fly is "little black" among salmon flies. And as we know: Black always works! The Pikkumusta pattern remained under the radar of many salmon anglers for a long time and only became known through the book "Top Salmon Flies." A fly designed in Northern Lapland but now making life difficult for salmon and sea trout all over the world. Especially when larger flies are not leading to success, this small wonder weapon in a perfect snack size can quickly change your fate. The combination of a black wing and a red tungsten conehead ensures that the fly fishes effectively immediately after landing and plays seductively. Especially in fast water, the fly is happy to be used due to its weight.
The fly is tied as a No-Body Tube, and therefore, we recommend fishing the hook swinging freely with knot protection.
Details:
High-quality tube fly from Superflies for salmon and more
An excellent choice for summer conditions
Very durable and tied from premium materials
Integrated tungsten conehead for weight
No-Body tying method
| Tube Length | Wing Length |
| --- | --- |
| 1/4" | 5 cm |
About Superflies:
The flies from the Scandinavian manufacturer Superflies are extremely popular all over the world – especially the large collection of premium salmon flies. In addition to timeless classics, this impressive selection also includes countless modern patterns that have been extremely effective in recent years. In fact, all of these flies have one thing in common: their outstanding quality. Therefore, they consist of high-quality materials tied in a very durable way. Summarized, Superflies offers the perfect salmon fly for every type of fishing – whether a tiny hitch or a heavily weighted tube fly.