Article successfully added.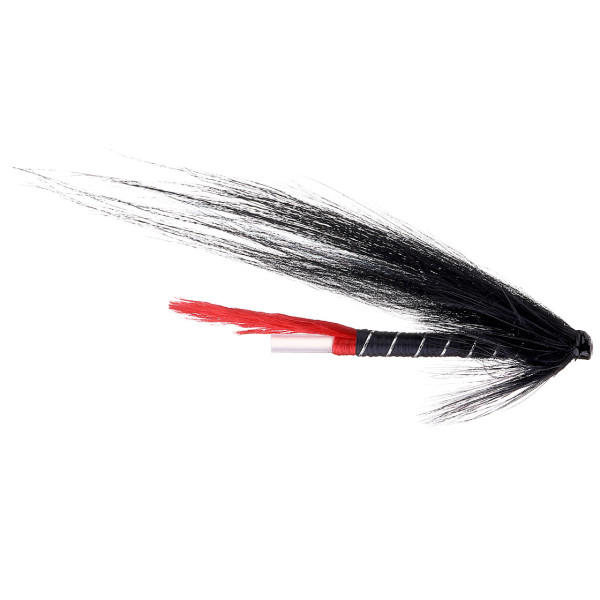 Glodhack
Superflies Salmon Fly - Glodhack
The Glodhack is an absolute weapon for salmon and sea trout alike. You'll hardly find a salmon angler in the Nordic countries heading out without this proven classic. The fly is the perfect blend of the Red Butt and Sunray Shadow. And just as versatile, it can be fished. Whether stripped quickly or swung downstream at a sharp angle, fish rarely resist the Glödhäck, and this holds true throughout the season. Black always works, and a long, slender profile does too.
This pattern is an absolute recommendation for salmon all over the world and especially for sea trout, whether in Denmark, Sweden, or Argentina. A really good all-around pattern for all imaginable conditions.
Details:
High-quality tube fly by Superflies for salmon and more
An excellent choice for summer conditions and clear water
Very durable and tied with premium materials
Versatile and effective year-round
Tied on a plastic tube
| Tube Length | Wing Length |
| --- | --- |
| 2" | 10 cm |
About Superflies:
The flies from the Scandinavian manufacturer Superflies are extremely popular all over the world – especially the large collection of premium salmon flies. In addition to timeless classics, this impressive selection also includes countless modern patterns that have been extremely effective in recent years. In fact, all of these flies have one thing in common: their outstanding quality. Therefore, they consist of high-quality materials tied in a very durable way. Summarized, Superflies offers the perfect salmon fly for every type of fishing – whether a tiny hitch or a heavily weighted tube fly.