Article successfully added.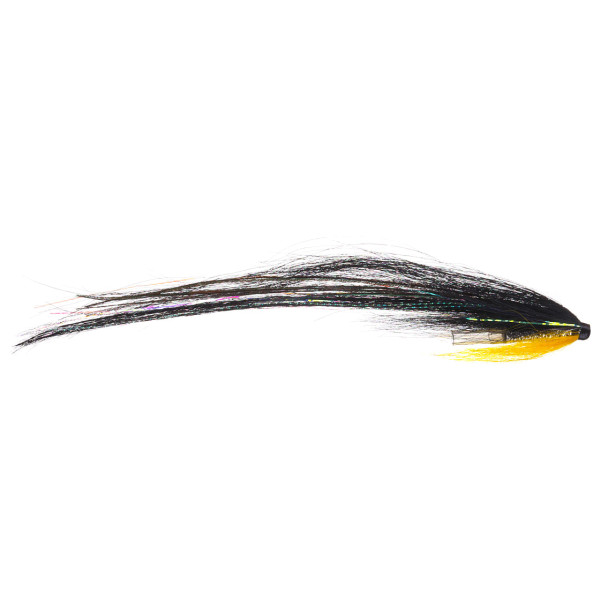 Superflies Salmon Fly - Dee Monkey Yellow Tungsten
Superflies Salmon Fly - Dee Monkey Yellow Tungsten
The legendary Dee Monkey is undoubtedly one of the best salmon flies of all time. For many salmon anglers, this pattern is their first choice - no matter where. This naturally applies to the very high-quality Dee Monkey Yellow from Superflies as well. This predominantly black tube fly has a long wing that seductively plays in the water and creates a strong contrast against the sky. A proven concept (similar to the Sunray Shadow) that has convinced countless salmon around the world. This black and yellow variant is one of the best color combinations for Atlantic salmon fishing. In fact, this color scheme works in almost all waters - whether crystal clear or slightly brownish water. This fly is especially known for being fished at high speed on a floating line just below the water's surface. Thanks to the tungsten tube, this special variant can also be presented deep and slowly, or quickly in fast water. Very versatile! The Tungsten Dee Monkey is an all-around talent that should be in every angler's box - no matter where the journey takes you!
Details:
High-quality tube fly from Superflies for salmon and more
Extremely versatile and almost always a good choice
Very durable and tied from premium materials
Tied on a weighted tungsten tube
Includes matching silicone tube for securing the hook
| Tube Length | Wing Length |
| --- | --- |
| 1/2" | 8 cm |
About Superflies:
The flies from the Scandinavian manufacturer Superflies are extremely popular all over the world – especially the large collection of premium salmon flies. In addition to timeless classics, this impressive selection also includes countless modern patterns that have been extremely effective in recent years. In fact, all of these flies have one thing in common: their outstanding quality. Therefore, they consist of high-quality materials tied in a very durable way. Summarized, Superflies offers the perfect salmon fly for every type of fishing – whether a tiny hitch or a heavily weighted tube fly.