Article successfully added.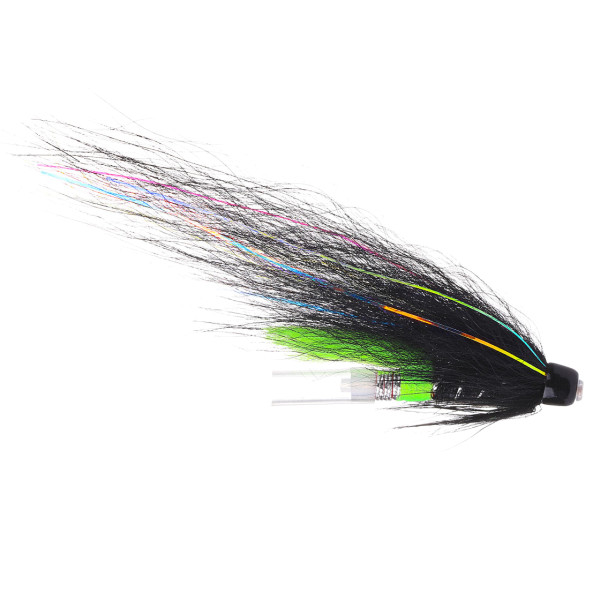 Black_Bear_Green_Butt_Brass_Conehead
Superflies Salmon Fly - Black Bear Green Butt Brass Conehead
Black is always a go-to choice, especially when combined with a green hotspot. There's hardly a salmon river in the world where this color combination doesn't lead to success sooner or later. That's why Green Butt variations have a permanent spot in our salmon and sea trout boxes. The size and weight of the fly vary depending on the river, water level, and season.
This weighted version with a brass conehead starts fishing immediately after the fly hits the water and is particularly effective in fast currents. This fly gains our trust in many situations, especially when we're fishing in fast water, such as the pool's inflow or fast pockets.
Details:
High-quality tube fly from Superflies for salmon and more
An excellent all-around fly for all conditions
Classic Green Butt colors
Very durable and tied from premium materials
Wing made from high-quality Black Bear fur
Brass conehead for weight
Fly length: approximately 3 times the tube length
| Tube Length | Wing Length |
| --- | --- |
| 1/2" | approx.4 cm |
| 1" | approx. 8 cm |
About Superflies:
The flies from the Scandinavian manufacturer Superflies are extremely popular all over the world – especially the large collection of premium salmon flies. In addition to timeless classics, this impressive selection also includes countless modern patterns that have been extremely effective in recent years. In fact, all of these flies have one thing in common: their outstanding quality. Therefore, they consist of high-quality materials tied in a very durable way. Summarized, Superflies offers the perfect salmon fly for every type of fishing – whether a tiny hitch or a heavily weighted tube fly.