Article successfully added.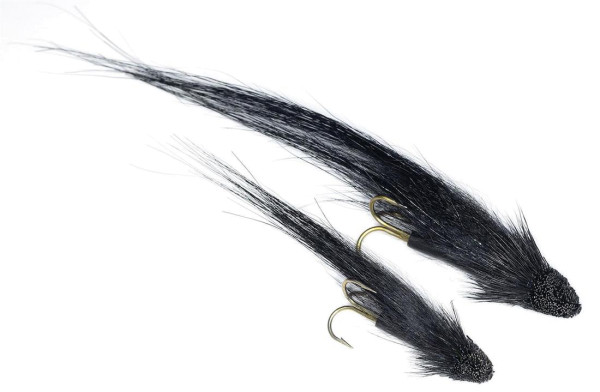 Guideline Tube Fly Sunray Tsunami black by Jan Erik Granbo
Guideline Tube Fly Sunray Tsunami black by Jan Erik Granbo
Tube Fly from Guideline's Traditional Series. Tied with high-quality materials.
Cross a Sunray with a Muddler Minnow and you'll get a sure winner! This tube fly by Guideline (designed by Jan Erik Granbo) increase your opportunities for a take when a lot of other type of flies fail. The combination of a Sunray wing profile and muddler head triggers salmon to take even when fishing is perceived as slow (low water level). The fly is also effective on larger rivers on both fresh, running salmon and salmon that have stopped in the pool for some time.

The muddler head makes all the difference, creating turbulence and more life to the wing. The salmon take flies due to aggressiveness, Sunray Tsunami is a fly that triggers salmon very well because it has both different and more movement in the water than most other classic hair wing flies. You can fish this fly with floating line, this will give a surface movement that works well on everything from medium water to low water level. The kick you get when the salmon comes up to the surface and takes this fly is just completely raw and must be experienced.
We like to fish this fly with good speed, the best lines are float/sink versions. You can also fish the fly with float/ sink 1-3 and 5, as it works very well in the deeper water layers as well. This tube is pure black with a few strands of mirage tinsel for some attraction. A favourite for night time fishing!
Delivered without hook.