Article successfully added.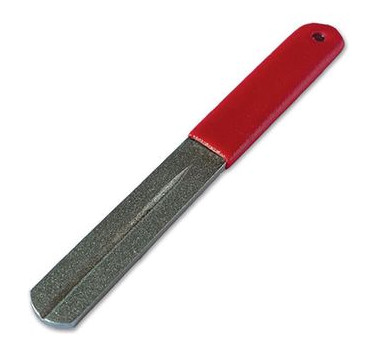 Scientific Anglers Tailout Hookfile sharpener
Scientific Anglers Tailout Hookfile sharpener
The expensive fly pattern or even a tied favorite fly throw away because the hook is blunt, that does not have to be!
Who does not know it, the fly top in shot, but somehow the hook is blunt. Just touched a stone on the beach during the backswing or cleaned the bridge from cobwebs and the tip is no longer a tip. For this reason, it is only advantageous to be in possession of a hook sharpener.

With the Scientific Anglers Tailout Hookfile hook sharpener you will be able to sharpen your fly in seconds, if not sharper than ever. Thanks to the notch, which is used as a guide rail for the hook, the handling is even child's play. Do not grind too much, because the diamond surfaces already lead to a great result with a few moves.
Details:
Diamond hook sharpener
Guide rail for easy handling of the hook when sharpening
Diamond grit grinding surface
Ergonomic foam handle
Length: 10 cm
About Scientific Anglers:
The American manufacturer Scientific Anglers is known for innovative fly lines that are always ahead of their time. This success story started in 1952 with a ground-breaking invention: the first plastic-coated fly line. In the same manner, Scientific Anglers continues to strive for improvement and innovation. The result of this inspiring company philosophy is an impressive range of premium fly lines and accessories. In addition to modern fly lines, this selection also includes shooting heads, running lines and all kinds of leaders. Therefore, Scientific Anglers offers the perfect line for every type of fishing – whether you're fishing a trout stream or a saltwater flat!