Article successfully added.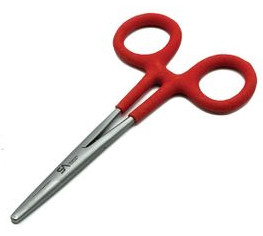 Scientific Anglers Tailout Standard Hemo Artery Clamp/Pincer
Scientific Anglers Tailout Standard Hemo Artery Clamp/Pincer
An artery forceps should always accompany you on the water. Not always the fly sits in the front area of the mouth and must be released carefully, an artery clamp helps immensely. But also to press on a barb or to hold the end of the tippet for a knot.

The Scientific Anglers Tailout Standard Hemo Artery Clamp / Pliers is the ideal companion on the water to free a fish from the hook as gently as possible, to fix a shot lead and much more. The red handle, with plenty of grip, not only helps to perform the work even with wet or even cold hands, you can also quickly find the pliers again if you have lost them times.

The quality of these pliers is phenomenal. Stainless, precise, smooth-running and robust! The non-slip red handles allow for a comfortable and firm grip even with wet or cold hands. An integrated spike helps to clean a clogged or stuck hook eye or to untie a knot.
With a total length of 15 cm, the Hemo pliers are perfect for all uses from trout, salmon and sea trout, to perch and zander.

Details:
High quality artery clamp
Stainless steel
Ergonomic handle with plenty of grip for a secure hold
Needle for cleaning the hook eye
Length: 15 cm
Color: red
About Scientific Anglers:
The American manufacturer Scientific Anglers is known for innovative fly lines that are always ahead of their time. This success story started in 1952 with a ground-breaking invention: the first plastic-coated fly line. In the same manner, Scientific Anglers continues to strive for improvement and innovation. The result of this inspiring company philosophy is an impressive range of premium fly lines and accessories. In addition to modern fly lines, this selection also includes shooting heads, running lines and all kinds of leaders. Therefore, Scientific Anglers offers the perfect line for every type of fishing – whether you're fishing a trout stream or a saltwater flat!