Article successfully added.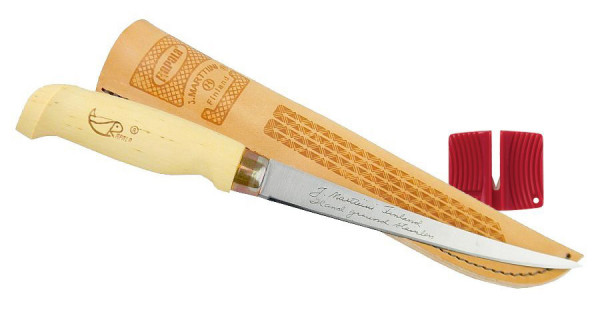 Rapala Finlander Fillet Knife
Rapala Finlander Fillet Knife
High quality knife from Rapala for safe and clean work.
The Finlander Knife by Rapala has more guts than any other knife. This is the one that taught the world to fillet! A favorite since the early days of Normark® with over 100 million sold to date, this knife is used in more fishing camps, on more charter boats and by more fisherman than any other fillet knife in the world. Progressively tapered, flexible, full-tang blade of European stainless steel that takes and holds an ultra-sharp edge is securely anchored in legendary birch handle. All protected by a fine tooled leather Laplander sheath with "safety-first" free-swing belt loop that always keeps sheath and blade clear of the body. With different blade sizes to choose from, there's one just right for every fish cleaning chore. Includes easy-to-use single-stage sharpener that keeps blade razor sharp.
Details:
Classic Birch Handle
Progressively tapered, full-tang blade
Safety Notch secures tang to brass ferule
Fine tooled leather sheath
Includes single-stage sharpener
Made by Martiini in Finland
About Rapala:
Rapala has been one of the top brands for spin anglers for ages and not without good reason. Frequent innovations, high quality products and absolute exceptional catches on the lures have contributed to the fact that anglers in over 140 countries trust the Finnish manufacturer. Starting with wooden hardbaits, the products have always evolved and almost every new development directly becomes a classic. Meanwhile, Rapala offers everything the spin fishing heart can desire - from rods and landing nets to bags and backpacks, to tools and much more.