Article successfully added.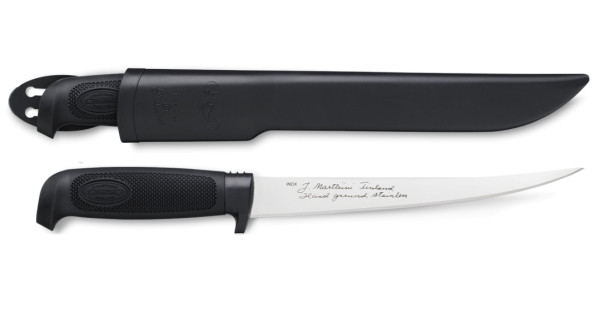 Marttiini Finnish Filleting Knife Basic 19 cm
Marttiini Finnish Filleting Knife Basic 19 cm
Already since 1928, anglers, hunters, cooks and craftsmen have trusted the high-quality working blades from Marttiini, which are still manufactured today in the Finnish polar region. The design of the knives was worked out in constant consultation with experts and further improved in terms of functionality. Today, after a 90-year company history, each Marttiini is therefore a highly functional tool that has been adapted to its specific tasks. But all Marttiinis have one thing in common: a cleanly crafted, long-lasting sharp blade. Marttiini knives to this day feature traditional and handcrafted manufacturing processes that make these world-renowned knives timeless beauties.
No frills, just clean filleting: The Basic knife gets you there precisely, quickly and, most importantly, affordably. And of course with the usual Marttinii quality. This is ensured by the flexible stainless steel blade, which at 19 cm is the perfect size for fish weighing 2-4 kg. This makes the removal of fillets and the subsequent skinning very comfortable. The non-slip plastic handle provides a firm grip even when wet. Supplied in a protective plastic knife sheath.
To ensure that the knife retains its sharpness for as long as possible, we recommend cleaning by hand.
Details:
Blade length: 19 cm
Total length: 31 cm
Flexible stainless steel blade
Handle material: rubber
Sheath material: plastic
Made in Finnish Lapland