Article successfully added.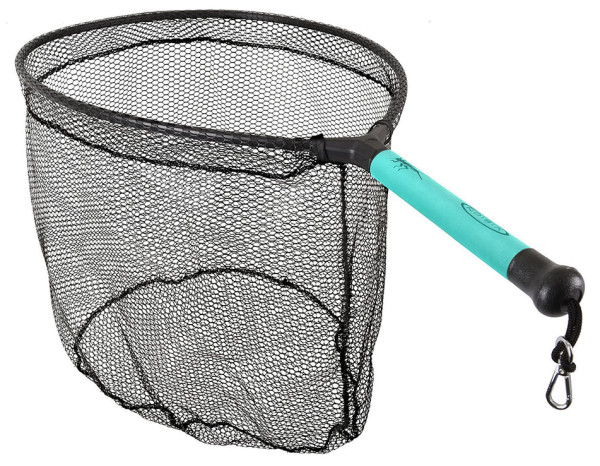 Vision Nymphmaniac Landing Net
Vision Nymphmaniac Landing Net
The landing net that many fly fishermen have been waiting for! A rubberized landing net with a slightly more deep net, the Vision Nymphmaniac net.
A short 21 cm handle with a 40 cm deep and naturally rubberized net. The ideal landing net for fly fishing, from small brown trout, to large grayling or barbel, almost any fish will fit in this net. And thanks to the rubberized mesh also particularly gentle when you want or need to put these fish back. The Vision Nymphmaniac landing net is of course not only suitable for fishing for grayling, trout and barbel. It is also suitable when hunting for big perch or whitefish.
The net can be easily fixed to the backpack or jacket with a landing net magnet and the other end can also be attached to the man or woman by a built-in carabiner. The 21 cm long handle of the net is equipped with a blue EVA, this material offers you, no matter what weather a particularly good grip and does not feel cold in winter. The frame of the landing net is made of aluminum, so the weight of the 41 x 50 cm opening is hardly noticeable.
The VISION Nymphmaniac Net is a great companion on the stream or even on the belly boat. A sufficiently large opening and a deep, rubberized net make this landing net a successful accessory that should not be missing when fishing!

Details:
Great all-round landing net from Vision
Lightweight aluminum frame
Rubberized and deep net is especially gentle to the fish
Short EVA handle with extra grip
Carabiner for attaching a safety strap
Handle length: 21 cm
Frame size: 41 x 50 cm
Net depth: 40 cm
About Vision:
Established back in 1997, the Finnish manufacturer Vision offers almost everything that you need for fly fishing. In addition to rods and reels, this impressive selection also includes wading clothes and all kinds of accessories. In fact, all Vision products have one thing in common: They combine a modern design with an outstanding value for money. Summarized, this manufacturer is known for its proven products in the mid-range price segment. In recent years, Vision also gained a great reputation for their selection of modern high-end rods.