Article successfully added.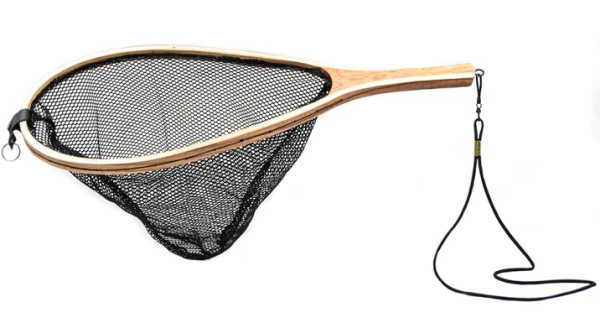 Cortland Wooden Black Mesh Trout Net Kescher
Cortland Wooden Black Mesh Trout Net Kescher
The Cortland Wooden Black Mesh Trout Net is a versatile landing net with a sturdy wooden construction for Trout and Grayling fishing. The landing net has a knotless net made of robust mesh that does not absorb odours and dries quickly. Handle and frame are made of several layers of wood. An elastic lanyard allows you to attach this landing net to your backpack or hip-pack, and a ring on the drop-shaped landing net opening offers the option of mounting a magnet.

A versatile, classic landing net with a high-quality finish and a knotless net that won't damage the fish's delicate skin. The dimensions of the landing net frame are 57 x 22 cm.

Details:
Universal landing net for trout and grayling fishing.
Frame construction and handle made of several layers of wood
Frame dimensions: 57 x 22 cm
Knotless, close-meshed net made of mesh
Elastic lanyard
Ring for attaching a landing net magnet
About Cortland:
In the world of fly fishing, the American manufacturer Cortland is known for modern premium fly lines – made in USA! These lines set new standards in many different ways due to multiple patented technologies and their well-thought-out design. In fact, they offer a truly outstanding performance, and therefore they will easily please the most demanding fly fishermen. Summarized, Cortland offers the perfect line for every type of fishing – whether you're fishing in fresh or saltwater. In addition, Cortland is also known for a fantastic selection of high-quality fly rods with a great value for money. In particular, their high-end nymph rods are very popular for modern nymphing techniques.