Article successfully added.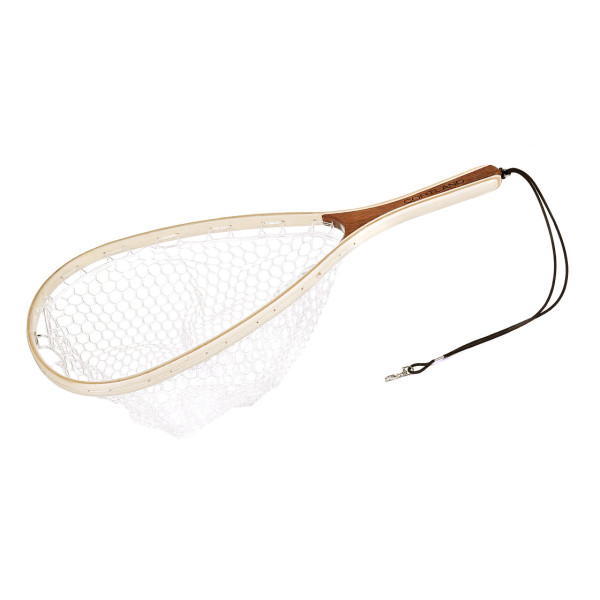 Cortland Catch and Release Trout Net
was

€69.90 *

(17.17% Saved)
€57.90 *
Prices incl. VAT plus shipping costs
In stock. Delivery time 1 - 3 work days.
Cortland Catch and Release Trout Net
The Catch & Release Trout Net by Cortland features a soft rubber net, which is particularly gentle on the sensitive skin of the fish. In addition, your flies cannot get caught in the large meshes. The transparent material of the Ghost net has been proven to have a more calming effect on the fish than conventional nets, as it is almost invisible to them under water. Unpleasant odours are also a thing of the past with this net. :)

The frame of this landing net is made of laminated bamboo and hardwood. It comes with an elastic rafety strap to fix it to your backpack or wading jacket. A robust wading net with a classic style and a modern rubber net. A price-performance-winner, which is a great choice for fishing Trout and Grayling!



Details:
Landing net with rubberised ghost net
Especially gentle on skin and fins
Fast drying
Size: 62 x 28 cm
Net: 42.5 x 25.5 cm
Net depth: approx. 24 cm
Robust construction made of bamboo and hardwood
Supplied with elastic safety strap
About Cortland:
In the world of fly fishing, the American manufacturer Cortland is known for modern premium fly lines – made in USA! These lines set new standards in many different ways due to multiple patented technologies and their well-thought-out design. In fact, they offer a truly outstanding performance, and therefore they will easily please the most demanding fly fishermen. Summarized, Cortland offers the perfect line for every type of fishing – whether you're fishing in fresh or saltwater. In addition, Cortland is also known for a fantastic selection of high-quality fly rods with a great value for money. In particular, their high-end nymph rods are very popular for modern nymphing techniques.