Article successfully added.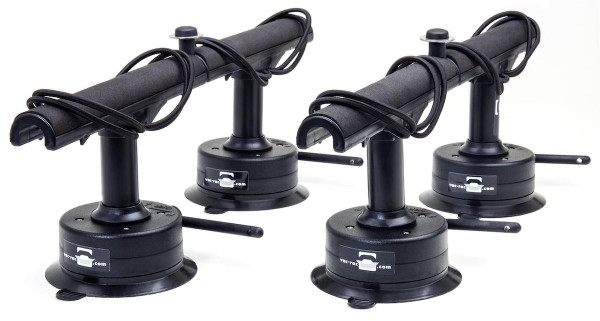 Guideline Vac-Rac Standard Professional Rod Holder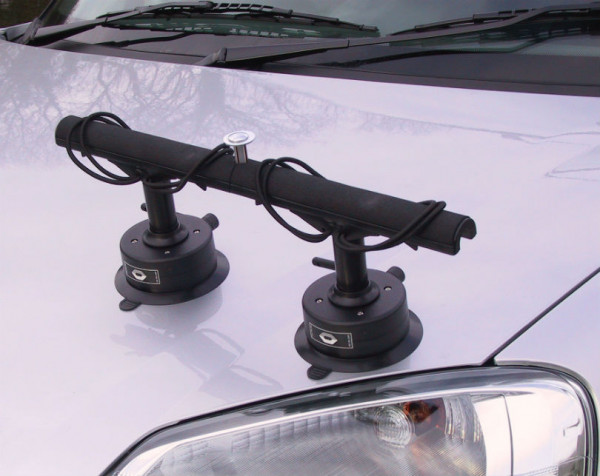 Guideline Vac-Rac Standard Professional Rod Holder
Guideline Vac-Rac Standard Professional Rod Holder
Many rods are simply too long to be pushed into the car when set up. If you like to change your spots frequently, the constant rigging and disassembly of the rod can quickly become annoying. So, save yourself the precious time and a lot of frustration, and just strap your rods fully rigged-up onto your car. Whether you're on trout water or a salmon river, if you like to "spot-hop," Guideline's strong Vac Rac rod holders are just the thing for your car.
Standard Professional:
The rounded "T" bar and sturdy shock cords allow you to mount your rods at any angle, not just in line with the base. Both the foam-coated crossbar and soft fabric-coated straps hold your rod wobble-free without damaging the handles or blank. Each double mount is equipped with two strong suction cups that stick securely to all non-porous surfaces (aluminum, steel, plastic) without scratching. On this extra-large design you can securely fix up to 8 mounted rods, so perfect when you're out with multiple buddies. All Locking Racks are vacuum tested to strict specifications and must withstand loads up to over 40 kg before leaving the factory.
Tip: The easiest way to mount the racks is on the hood and roof. That way you're on the safe side and your rods won't get in the way with a car door.
Details:
Stable rod holder for vehicles
Fixation by means of strong suction cups
Adheres to all non-porous surfaces: Aluminum, steel, plastic
Soft padding to protect the rods
Extra wide: holds up to 8 rods
Fabric-covered tensioning straps securely fix the rods in place
T-bar serrated underneath: tension can be adjusted
T-recess for easy hooking and unhooking of the straps
In tests, each carrier lifted over 40 kg
Supplied with storage bag and protector lids
Dimensions: 13 x 40 cm
About Vac Rac:
Since the 1980s, the company has been manufacturing products using vacuum technology, including specialty rod holders for demanding anglers. Over the years, new product designs have been added to perfectly meet the needs of us fly fishermen. The many years of experience in product development are absolutely reflected in the innovative products of the Welsh company and not without reason Vac-Rac is preceded by an impeccable reputation.