Article successfully added.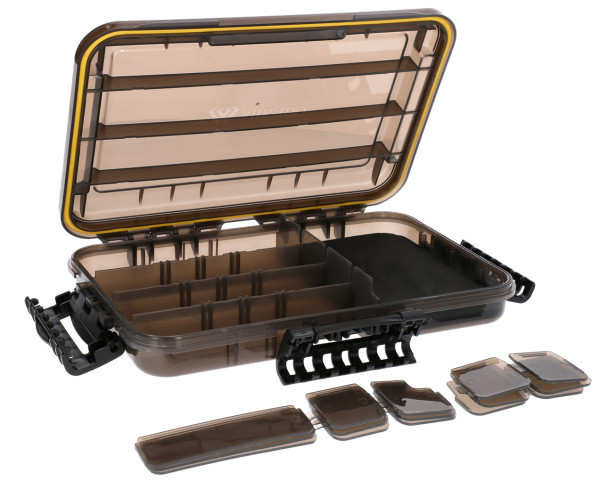 Mikado Tackle Box M 27 x 17 x 4,5 Waterproof
Mikado Tackle Box M 27 x 17 x 4,5 Waterproof
The Mikado Tackle Box is a waterproof and robust box for storing flies, snaps and other small parts. Likewise, of course, spinning lures or other things can be accommodated. The arrangement of the compartments can be designed individually, in which one divides the compartments by the dividers as desired. On one side in the box is a removable foam plate, which can be replaced by compartments. In the foam you can hardly hook for example pike flies, while you place the Bauer Pike tubes next to it.
The can also has a rubber seal, which protects the contents from rain or if this should fall into the water. The three strong closures of the box protect the contents even if the box should fall down, so that the box does not simply pop open and the tackle must be laboriously searched for on the floor.
The Mikao Tacklebox is a sturdy, waterproof can that can be arranged individually and can store tackle of all kinds.


Details:
Waterproof tin for large flies as well as spinning lures
Rubber seal keeps flies and other tackle dry
Secure closures keep the can closed even in case of a fall
Foam inside for Flies
Length: 35 cm
Width: 22 cm
Height: 5,5 cm