Article successfully added.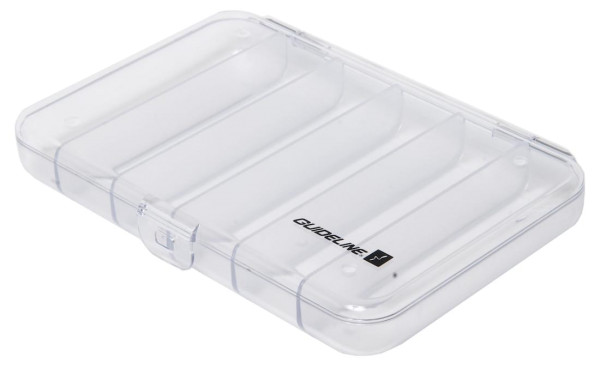 Back in
stock
Guideline Tube Slim Box Large
20% on Guideline (Black Week)

Deal valid until 01.12.2022 and while stocks last. Also valid for on-sale items. The (extra) discount will be displayed in your Basket.
Browse all Black Week Deals for Fly Fishing.
*1
*1 Offer valid until 02/12/2022
Guideline Tube Slim Box Large
Guideline Tube Slim boxes are perfect if you don't want to transport more flies than necessary or if you want to have several boxes for different rivers, water levels, etc. The handy fly box is made of transparent plastic and fits in every pack, vest and almost every waders pocket. They provide a quick overview of your favourite tube flies and are easy to open and close. Besides flies for salmon, sea trout and steelhead fishing, you can also store a selection of hooks or silicone tubes in the box.

In the Large size, the Tube Slim Box offers 6 compartments and measures 18.6 cm x 13 cm x 2.7 cm. Tube flies with a length of up to 11.5 cm can be stored here without any problems.

Details:
Transparent plastic fly box for tube flies, hooks, silicone tubes etc.
6 compartments
Size: Large
Dimensions: 18.6 cm x 13 cm x 2.7 cm
About Guideline:
The Scandinavian cult brand Guideline offers almost everything that you need for fly fishing. In addition to modern rods and reels, this impressive selection also includes high-quality wading clothes and all kinds of accessories. In fact, all Guideline products have one thing in common: They combine a practice-oriented design with an outstanding value for money. This applies for all price levels – from entry-level to premium models. Furthermore, Guideline places great emphasis on sustainability, which leads to eco-friendly production methods and an inspiring company philosophy.