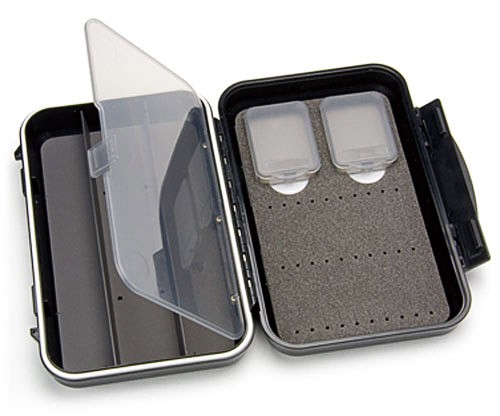 C&F Design CF-2403V Waterproof Fly Box for Tube Flies black
C&F Design CF-2403V Waterproof Fly Box for Tube Flies black
Copied at least a thousand times, but the quality has never been reached – when it comes to fly boxes, C&F Design is the measure of all things. Innovative, perfectly processed and proven in practice: the fly boxes of the Japanese premium manufacturer.
The CF-2403V is a medium sized, 100% waterproof fly box, which is ideal for salmon and steelhead fishermen. This box has 3 micro slit foam rows on one side to fix single, double or treble hooks. Further, two small compartments keep tube hook guides and other small accessoires. Three big compartments offer enough space to organize your favorite tube flies for your next salmon trip. Thanks to outstanding C&F Design quality this box will accompany you for years!
Details:
Large, 100% waterproof fly box
3 micro slit foam pockets on one side
2 small compartments for accessoires
3 big compartments for tube flies
Size: 155 x 105 x 40 mm
Color: black
Note:
because of the capillary action is it possible that water comes in through protruding feathers or synthetics. Take care especially in saltwater.