Article successfully added.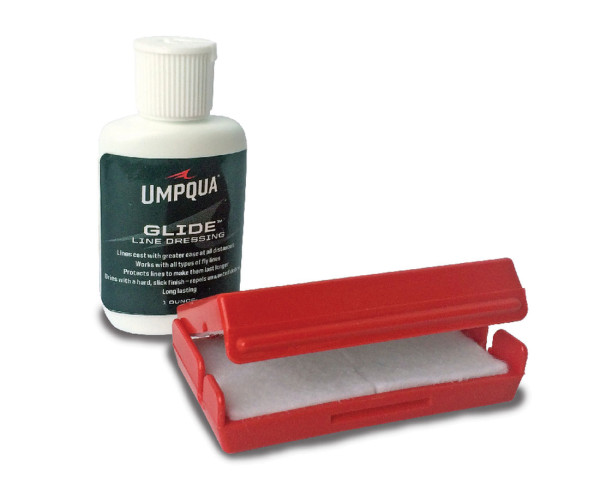 Umpqua Glide Line Dressing & Box
Umpqua Glide Line Dressing & Box
A well-maintained fly line not only shoots further and runs smoother through the guides, it also has a much longer lifespan. The Umpqua Glide Line Dressing cleans and maintains your valuable fly line in equal measure, so that dirt particles are gently removed without damaging the coating. Regular line care is one of the "must do" disciplines of every fly fisherman. At the latest before the start of the season, preferably at more regular intervals, you should make sure that you prepare your line for the coming operations.
The Umpqua Glide Line Dressing can be applied very easily using the enclosed box, which serves as an applicator. Simply apply a little dressing to the felt pads in the box, place the fly line in the recesses provided, close the lid and pull the line once lengthwise through the box - done. Thus cleaned and impregnated lines, keep on shooting, swim better and are free of dirt and mud.
For best results in line care and easy proper use!

Details:
Line Dressing for line cleaning and care
Removes dirt particles
Keeps the line supple without damaging the coating
Longer casts, better floating characteristics
Easy application with the enclosed dressing box
Content: 29.5 ml (1 oz)