Article successfully added.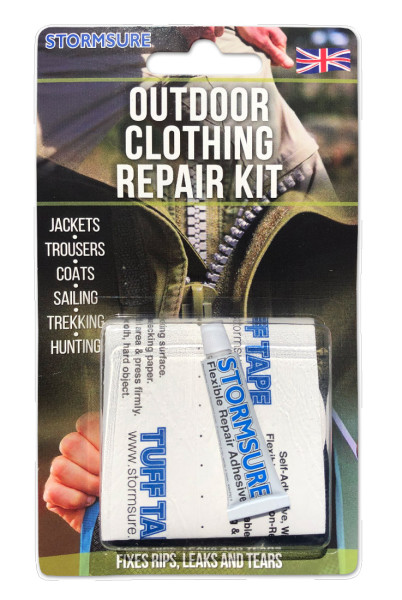 Stormsure Outdoor Clothing Repair Kit
Stormsure Outdoor Clothing Repair Kit
When you are outdoors and suddenly there is material damage to your functional clothing, it is annoying and can spoil the fun of the outdoor experience. Tears in jackets and trousers make it easy for moisture and wind to cool us down and make us feel uncomfortable. In addition, the membranes of expensive functional clothing must be protected against an enlargement of tears and holes if we want to remain active.
The Stormsure Outdoor Clothing Repair Kit contains an ideal selection of different patching materials for a wide range of applications. Pre-cut patches seal small tears and holes to make cracks durable and water and wind resistant. A Strip Tuff Tape, which you can cut to the required size, seals larger injuries in your outdoor clothing, while Stormsure Adhesive Sealant seals all the holes and tears that are difficult to access or particularly delicate. However, the adhesive needs 10 - 12 hours to dry completely.
All three repair elements are suitable for all types of outdoor clothing made of modern, technical fibres. The patches and adhesive mass are robust, durable and flexible. Their transparent appearance makes them unobtrusive. This means that immediate help is called for when you need to react quickly and sustainably and know that your valuable outdoor clothing is fully operational. Have fun out there!

Details:
Repair kit for closing tears and holes in outdoor and functional clothing
Contains pre-cut patches, tuff tape for self-cutting and adhesive sealant
Simple and fast emergency aid
Robust, flexible, waterproof and windproof