Article successfully added.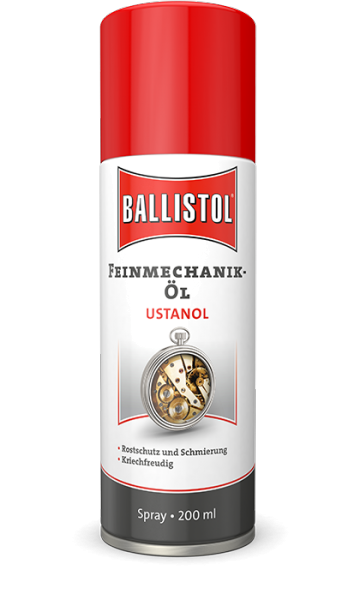 Ballistol Ustanol Precision Mechanics Oil Spray 200ml
Content:
200 milliliter (€2.98 * / 100 milliliter)
Prices incl. VAT plus shipping costs
Delivery time: 1 - 3 work days
Ballistol Ustanol Precision Mechanics Oil Spray 200ml
Whether you fish in fresh, salt or brackish water: The benefits of regular maintenance and care of your gear should never be forgotten. It's not just about removing salt residue and dirt, it's also about preventative protection, which has a positive effect on the longevity of your gear. Thanks to regular care, you will enjoy your precious (and often expensive) equipment for many more years - rods, reels, rain gear, and much more.
The Ballistol Ustanol Precision Mechanics Oil Spray is the ideal choice for the care of fine mechanical components such as ball bearings and gears of fly reels. In addition to constant lubrication, it also produces very reliable rust protection. This very low-viscosity neutral oil has a great creeping activity so that it penetrates even the smallest crevices and is sure to reach the entire surface it is applied to. In addition, it is ideal for loosening seized components, so that you can restore old gear such as classic fly reels. In short: With this fine mechanics oil spray from Ballistol you do your fly reels, tools and a variety of other gear a lot of good - and with very little effort!
Details:
Highly-penetrating universal oil spray - lubricates, cleans and protects!
The ideal choice for the care of precision mechanical components such as ball bearings or gears found in fly reels
Neutral oil with a pleasant smell
Very low viscosity
Reliably protects against rust and displaces moisture
Preserves all metals and adheres strongly to them
Works at high temperatures and high humidity
Free of chlorinated solvents
Content: 200ml