Article successfully added.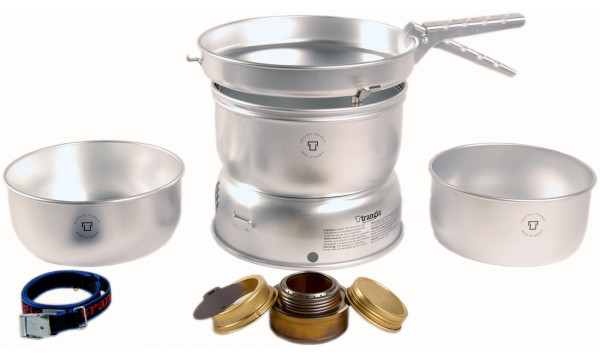 Trangia Storm Stove Set with Spirit Burner Large 25-1 UL
Trangia Storm Stove Set with Spirit Burner Large 25-1 UL
Trangia Storm Stove Set with Spirit Burner Large 25-1 UL
Trangia Storm Stove Set with Spirit Burner Large 25-1 UL
Fast - simple - reliable. Cookers by Trangia from Sweden are now used by outdoor enthusiasts all over the world. For half a century now, the Trangia cooker has been the natural choice when it comes to outdoor cookers. Quality thinking is at the forefront of their manufacturing - both in terms of material and function. All Trangia cookers are manufactured according to European standards in Trångsviken/Sweden. The aluminium comes from Italy and Hungary, the brass for the burners is produced in Germany. Trangia cookers are available in different materials and sizes and offer a variety of combinations, refinements and accessories. The perfect storm cooker for your outdoor adventure!
A lightweight, easy and quick to use and above all reliable outdoor cooker: The Trangia 25-1 UL. A spirit cooker made of ultra-light aluminium. The 25 series by Trangia includes slightly larger cookers that are suitable for groups of about 3-4 people.
This set includes two cooking pots with 1.75 and 1.5 litre capacities, a frying pan, a wind shield (top and bottom), a burner, a handle and a strap. You can stack the set inside each other to create a compact cooking set that you can easily stow in your backpack. When packed, this set measures 22 cm in diameter and is 10.5 cm high. With the supports in the raised position, the cooker can be used with large pots from the rest of the Trangia range.
Advantages of aluminium:
Aluminium is a very lightweight material that is characterised by fast and even heat distribution. This prevents burning in the middle of the frying pan or pot. The hard surface of the material offers good protection against scratches and wear. The Ultralight aluminium from Trangia is 50% stronger than conventional aluminium. This means that a smaller amount of the material is required in the manufacturing process, making the storm cookers lighter.
Tip:
The spirit burner can be replaced with a gas insert (available as an option). This increases efficiency and allows you to prepare food more quickly.
Details:
Ultralight aluminium (UL) spirit cooker
Model: 25-23 UL/D
Single-flame cooker
Suitable for 3-4 persons
Scope of delivery: 2 pots (1.75 l and 1.5 l), 1 frying pan (22 cm diameter), upper and lower windbreak, burner, tongs and strap
Material: aluminium
Weight: 865 g
Size: 22 x 10,5 cm
Made in Sweden