Article successfully added.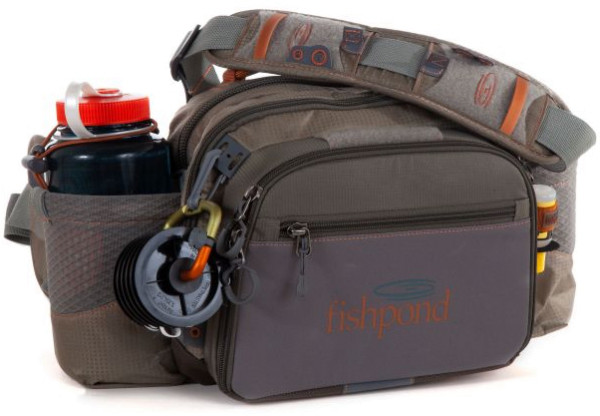 Fishpond Waterdance Pro Guide Pack Driftwood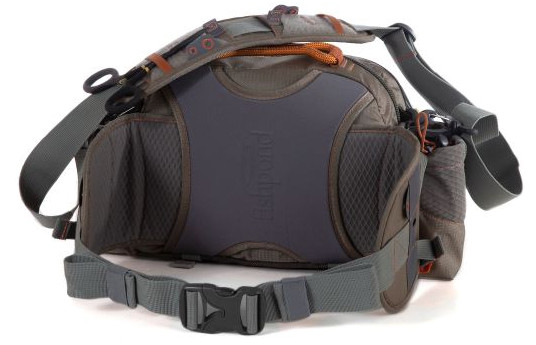 Fishpond Waterdance Pro Guide Pack Driftwood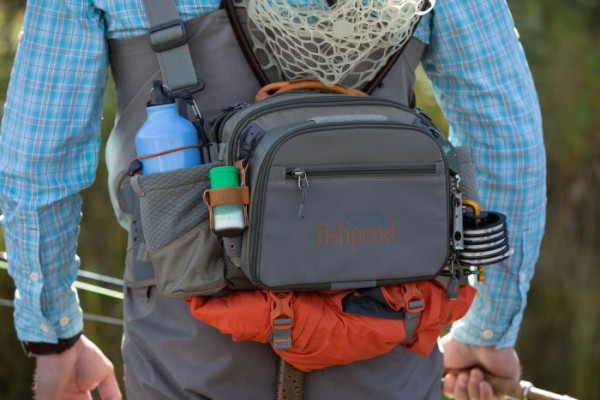 Fishpond Waterdance Pro Guide Pack Driftwood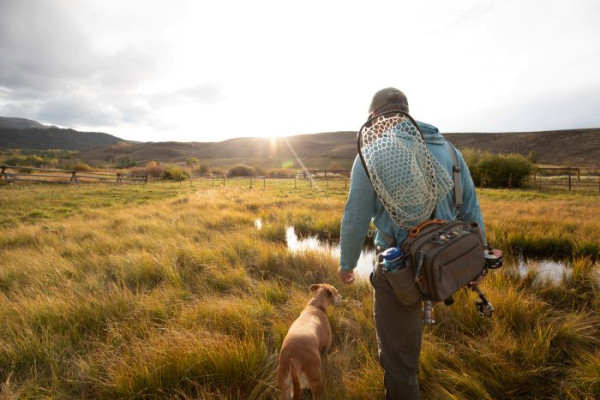 Fishpond Waterdance Pro Guide Pack Driftwood
Fishpond Waterdance Pro Guide Pack Driftwood
Fishpond Waterdance Pro Guide Pack Driftwood
Fishpond is one of the best-known companies on the fly fishing market when it comes to bags. Not without reason, many fly fishermen swear by the ergonomic, well-designed bags and backpacks of the American company, which launched its first Waterdance bag 20 years ago. Since then, the waist pack, which is now made of 100% recycled material, has been constantly developed and improved, thus continuing a long list of application-oriented features.

The Fishpond Waterdance Pro Guide Pack Driftwood can be worn as a chest or waist pack, and can be easily pulled from back to front on the hip in or around the water without having to undo a strap. This has a great benefit if you are standing in a river and can't find a dry place to put the bag. The bag sits securely and comfortably on the body thanks to its wide, comfortable hip belt and you also have both hands free! The hip belt is not only very comfortable, it is also adjustable and has small tabs for attaching different tools. To the hip or lumbar support belt, which supports the main part of the weight, the bag has a shoulder strap for extra support. Attached to the shoulder strap is a protector that can be moved variably, is well padded and in addition also has several tool stations to attach, for example, pliers or a retractor including nipper.
At the rear of the bag is a back padding processed, which has a mesh holder in the middle. In this holder you can slide the handle of a landing net, so the net always sits handy on the back, without it bothering you when you cast or when you walk, annoyingly hanging around and getting stuck in the bushes. The outer area of the bag has left, as well as right a water bottle holder, as well as other options for attaching tools and a fly patch. It's also ingenious that behind the front drop-down opening, in addition to a mesh pocket for small items, is another fly patch from Tacky, which points horizontally to the body when the zipper is open. There is room for two of these foam patches on the Velcro closure, so you have a direct overview of your flies from above without having to search in the fly boxes. However, if you prefer the fly boxes, you can store up to 6 fly boxes in the two large main pockets of the Waterdance Pro Guide bag. The main pockets are divided with mesh pockets, this prevents gear from flying around and keeps the pack well organized.

All in all, it's understandable why so many fly fishermen have relied on Waterdance packs for nearly 20 years! No hassle of carrying a backpack in scorching heat! No going out of the water when you need something from the bag and extremely comfortable to go with it. The Fishpond Waterdance Pro Guide Pack Driftwood bag is a smart, comfortable bag with great features and useful features to keep all your accessories and tools safe and sensible.

With the Waterdance pack you are simply prepared for any situation!
Details:
Hip or chest pocket made from 100% recycled material
Cyclepond fabric made of 420D nylon
Two large main pockets
Several small outside as well as inside pockets
Two removable foam fly patches
Adjustable strap system
Hypalon tool attachments for retractor, pliers, nippers and other tools
Padded backrest
Net holder on the back
Mesh holders for water bottles or cans
Comfortable and well thought-out bag
Weight: 950 g
Length: 35 cm
Height: 23 cm
Depth: 18 cm
Information: Shown accessories are not part of the delivery.
About Fishpond:
Established more than 20 years ago, the American manufacturer Fishpond is known for high-quality backpacks, packs and accessories. In fact, all of these products have one thing in common: They combine a practice-oriented design, an outstanding quality and a stylish appearance – exactly what demanding fly fishermen need. Furthermore, Fishpond places great emphasis on sustainability, which leads to eco-friendly production methods and an inspiring company philosophy. Thus, most products are made almost exclusively from recycled materials. In order to meet the high demands of durable fly fishing gear, Fishpond has developed three innovative materials: the so-called Cyclepond, EcoNyl and NewStream. They are made from 100% recycled materials – for example, from old fishing nets or plastic bottles. According to the motto "functionality meets sustainability", all Fishpond products set completely new standards in many different ways!