Article successfully added.

Back in
stock
Fishpond River Rat 2.0 cup holder Eco shale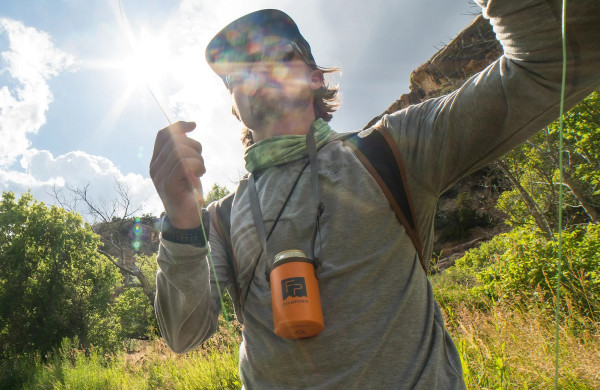 Back in
stock
Fishpond River Rat 2.0 cup holder Eco shale
Fishpond River Rat 2.0 cup holder Eco shale
Whether you're up to your chest in your favorite river, pounding the surf, or leisurely drifting on a boat, the River Rat cup holder is sure to give you two essentials: an always-cool drink and free hands for casting, drifting, navigating, or photographing!
Made from Fishpond's recycled 900D NewStream Fabric, the handy can/bottle holder will last an eternity and keep your drink cool with its insulating interior coating. Using the size-adjustable neck strap, carry your drink of choice in front of your chest or remove the strap and have your drink instantly at hand.
About Fishpond's NewStream Fabric:
Sustainability is more than just a word for Fishpond, it's a promise to do better and a commitment to nature - this is especially true when it comes to their choice of materials. Fishpond began upcycling old nylon fishing nets over 10 years ago. Now Fishpond's fabrics are made from 100% recycled materials. The NewStream Fabric, for example, is made from 100% recycled plastic bottles. We think that's great!
Details:
Mobile drink holder for free hands while always a drink at hand
Adjustable neck strap - removable
Suitable for beverage cans and bottles
900D TPU coated and waterproof recycled NewStream material
Insulating inner lining reinforced with stretch mesh fibers
Dimensions: 12 cm (width) x 7 cm (diameter)
Weight: 68 g
Color: shale
About Fishpond:
Established more than 20 years ago, the American manufacturer Fishpond is known for high-quality backpacks, packs and accessories. In fact, all of these products have one thing in common: They combine a practice-oriented design, an outstanding quality and a stylish appearance – exactly what demanding fly fishermen need. Furthermore, Fishpond places great emphasis on sustainability, which leads to eco-friendly production methods and an inspiring company philosophy. Thus, most products are made almost exclusively from recycled materials. In order to meet the high demands of durable fly fishing gear, Fishpond has developed three innovative materials: the so-called Cyclepond, EcoNyl and NewStream. They are made from 100% recycled materials – for example, from old fishing nets or plastic bottles. According to the motto "functionality meets sustainability", all Fishpond products set completely new standards in many different ways!