Article successfully added.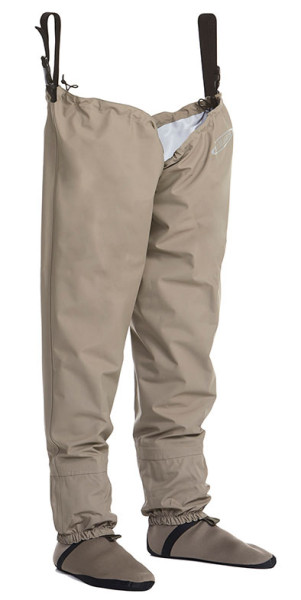 Vision Koski Hipwader Waders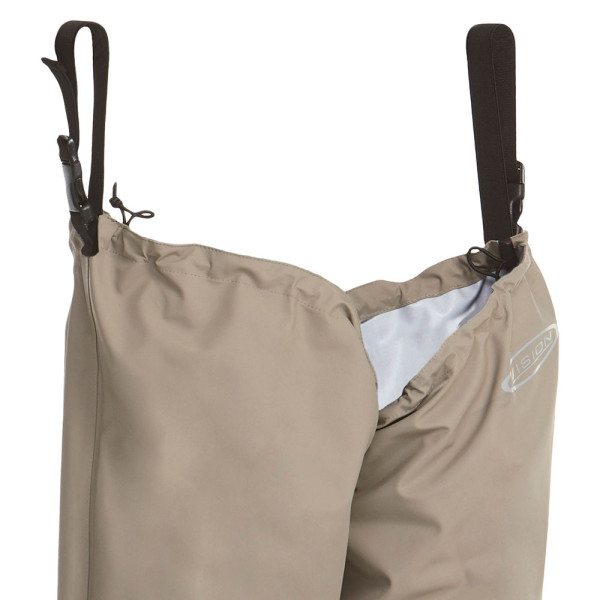 Vision Koski Hipwader Waders

Vision Koski Hipwader Waders

Vision Koski Hipwader Waders
Not sure what size to buy? No worries! Specify your "Body measurements" down here and we'll check the selected size. If necessary we'll choose the perfect size for you.

Prices incl. VAT plus shipping costs
Vision Koski Hipwader Waders
When the temperature rises in early spring, it is often only a harbinger of the summer heat, which we also experience when fly-fishing. Even the best breathable waders often cannot prevent sweat from pouring out of all our pores. Wetwading is an alternative, but this admittedly refreshing discipline is not for everyone, and so Visions Koski Hipwaders are an ideal solution for those who want to wade through streams, rivers and lakes with dry feet even in summer. Furthermore, these waders are of course also suitable as a weight and space-saving alternative to waders when travelling or on longer trekking tours. With an appropriate textile underlayer you can of course also be active on cooler days!
The Vision Koski Hipwaders are made of an absolutely waterproof 4-layer breathable membrane and are attached to the pants with the two belt buckles. The two neoprene feet are protected by gravel guards which can be attached to the waders with the help of the two hook eyes. Equipped in this way the hipwaders are surely saving you from a sauna experience during the hot months and when the water level is accordingly high. So fishing ist still a refreshing and relaxing adventure for you!
Details:
Hip-high waders made of breathable F4 material, four-layer
Absolutely waterproof with robust seams
Integrated neoprene boots with gravelguards and corresponding suspension eyes
Easy to attach to any pair of trousers with belt loops
Ideal alternative to waders on hot days
Also for travel as a space-saving alternative to waders
With a warm underlayer also usable on cooler days
SIZING GUIDE
Size

A


B


C


D


E


STANDARD - For average build flyfishers
XS
107 cm
104 cm
81 cm
135 cm
25 cm
S
112 cm
109 cm
86 cm
141 cm
26 cm
M
117 cm
114 cm
89 cm
145 cm
28 cm
L
127 cm
124 cm
93 cm
150 cm
29 cm
XL
132 cm
130 cm
94 cm
154 cm
30 cm
XXL
140 cm
137 cm
97 cm
159 cm
32 cm
LONG - For flyfishers with long legs
ML
117 cm
114 cm
95 cm
152 cm
28 cm
LL
127 cm
124 cm
98 cm
157 cm
29 cm
KING - For flyfishers build like a paunchy king
MK
132 cm
127 cm
89 cm
145 cm
28 cm
LK
140 cm
134 cm
93 cm
150 cm
29 cm
SHORT - For flyfishers with short legs
MS
117 cm
114 cm
86 cm
142 cm
28 cm
LS
127 cm
124 cm
89 cm
146 cm
28 cm
XLS
132 cm
130 cm
93 cm
151 cm
29 cm

A = Chest
B = Waist
C = Inseam, crotch to floor
D = Outseam, chest to floor
E = Sock or foot length