Article successfully added.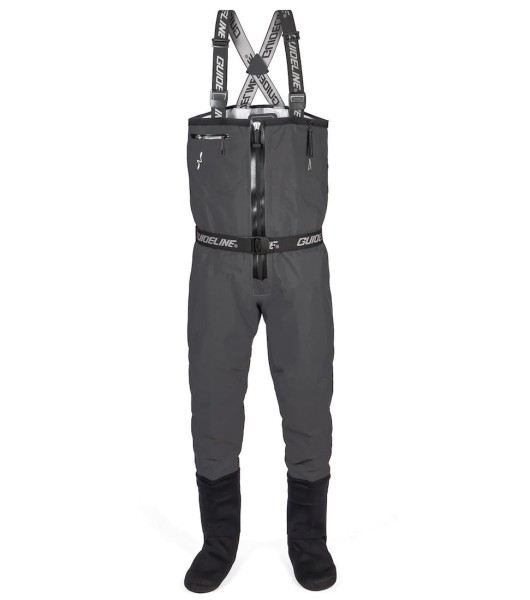 Guideline Experience Sonic TiZip Waders
Not sure what size to buy? No worries! Specify your "Body measurements" down here and we'll check the selected size. If necessary we'll choose the perfect size for you.

was

€399.00 *

(25.06% Saved)
€299.00 *
Prices incl. VAT plus shipping costs
Guideline Experience Sonic TiZip Waders
Guidelines 'Experience' line closes the gap between the high-end 'Alta' and budget 'Kaitum' series providing high quality at a mid price-range price.
The Guideline Experience waist waders feature the same reliable TiZip zipper which can be found on the popular, top of the line 'Alta' waders. The 'Alta' and 'Experience' waders show strong resemblance in their design, yet the 'Experience' puts 240 g less on the scale. Being lighter theses waders are ideal for longer hikes through steep terrain or along the coast in search of 'Baltic silver'. The modern design with plentiful well placed features along with the charcoal colored fabric makes the Experience TiZip a very appealing offer.
Utilizing Ultra Sonic welding technology 'Experience' waders feature stitch less seams and thus eliminate typical weak spots along the seams. Moreover 'Experience' waders feature a zoned construction with a thick, robust 4-layer fabric in high wear areas and a thinner, lighter and more breathable fabric in areas less exposed to stress. The comfortable anatomical fit enables unhindered movement and the seamless construction on the inside of the legs further increases the durability of the waders.
The reliable, 100% waterproof TiZip zipper (made in Germany) offers maximum flexibility when jumping in and out of your waders and turn out extremely helpful in case you are in a hurry ;)
The wide-ranging features of the Experience waders include a front-stash pocket with water-resistant zippers, an interior pocket for documents, keys and your smart-phone. On the left front there is an elastic retractor for nipper- or forceps attachment. Further attachment points organize your tools and accessories in handy reach for quick access. The neoprene stockings are rubber reinforced. Both wading belt and shoulder straps are flexible and adjustable for comfortable wear. The modern fabric is lightweight, highly breathable (7000gr/qm/24 Std.) and with a hydro static head of 30.000 mm absolutely waterproof.
The Experience strikes with plentiful well placed features, a super functional membrane as well as perfect fit and robust construction. High quality materials and precise processing guarantee everyday use durability and a modern look – at a very fair price point!
Details:
4-layer construction in high wear areas (Nylon Taslan)
100% waterproof (30.000 mm)
Highly breathable (7000g / m2 / 24h)
Ultra Sonic Technology (welded, stitch-free seams)
Waterproof TiZip zipper
Spacious front stash pocket with water resistant zipper
Interior pocket for documents
Attachment points for tools
Neoprene gravel guards
Comfortable, adjustable suspender-system
Color: Charcoal
Weight: ca. 940 g (size L)
SIZING GUIDE
Please note that the measures in the chart are of your own body, NOT of the waders itself.
| Size | A | B | C | D | E | F |
| --- | --- | --- | --- | --- | --- | --- |
| S | 88 - 94 cm | 81 - 87 cm | 89 - 95 cm | 127 cm | 84 - 86 cm | 25,2 cm |
| M | 95 - 101 cm | 88 - 94 cm | 96 - 102 cm | 134 cm | 84 - 86 cm | 27,7 cm |
| MS | 95 - 101 cm | 88 - 94 cm | 96 - 102 cm | 128 cm | 79 - 81 cm | 27,7 cm |
| MK | 102 - 108 cm | 95 - 101 cm | 103 - 109 cm | 134 cm | 84 - 86 cm | 27,7 cm |
| ML | 95 - 101 cm | 88 - 94 cm | 96 - 102 cm | 140 cm | 89 - 91 cm | 27,7 cm |
| L | 102 - 108 cm | 95 - 101 cm | 103 - 109 cm | 140 cm | 86 - 88 cm | 28,7 cm |
| LS | 102 - 108 cm | 95 - 101 cm | 103 - 109 cm | 133 cm | 81 - 83 cm | 28,7 cm |
| LK | 109 - 115 cm | 102 - 108 cm | 110 - 116 cm | 140 cm | 86 - 88 cm | 28,7 cm |
| LL | 102 - 108 cm | 95 - 101 cm | 103 - 109 cm | 146 cm | 91 - 93 cm | 28,7 cm |
| XL | 109 - 115 cm | 102 - 108 cm | 110 - 116 cm | 145 cm | 88 - 90 cm | 29,7 cm |
| XLK | 116 - 122 cm | 109 - 115 cm | 117 - 122 cm | 145 cm | 88 - 90 cm | 29,7 cm |
| XXL | 116 - 122 cm | 109 - 115 cm | 117 - 122 cm | 147 cm | 90 - 92 cm | 30,7 cm |
| 3XL | 122 - 128 cm | 116 - 122 cm | 123 - 128 cm | 152 cm | 92 - 94 cm | 31,7 cm |

A = Chest
B = Waist
C = Seat
D = Outseam, chest to floor
E = Inseam, crotch to floor
F = Foot Length