Article successfully added.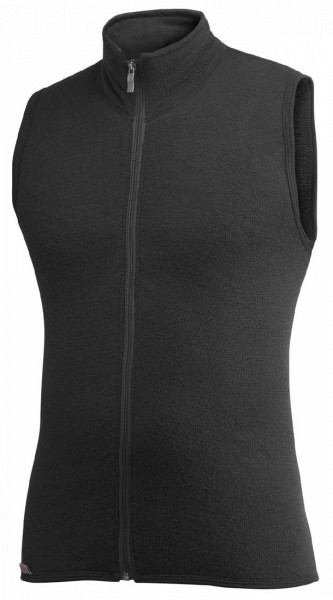 Woolpower Vest 400 black
Woolpower Vest 400 black
The Woolpower 400 series includes truly outstanding and very versatile garments with a wide temperature range. They are a fantastic outer layer for dry spring and autumn days providing cosy warmth at all times. Further, they can be used as a mid-layer in combination with other layers. Using multiple layers according to the so-called "onion principle" will allow you to withstand even the coldest temperatures!
The Vest 400 has an anatomical cut for a perfect fit and great freedom of movement. It is made of the extremely smooth Ullfrotté 400 Material, which consist mostly of merino wool. Therefore, this vest is very pleasant to wear and kind to the skin. It has a relatively high collar and a central front zipper. Last but not least, it is relatively light, highly breathable and odour-inhibiting.
In short: The Woolpower Vest 400 combines cosy warmth with a truly outstanding wearing comfort!
Details:
High-quality functional underwear
Anatomical cut for great freedom of movement
Circular knit fabric with no lengthwise seams along the body
High collar and central front zipper
Breathable, odour-inhibiting and quickly drying
Made of the one and only Woolpower Ullfrotté 400 material
Material: 70% merino wool, 28% polyamide, 2% elastane
Colour: black
adh-world
Everything you need to know about layering can be found on adh-world.
"Fortunately, it is not difficult at all to dress for fishing in cold temperatures. With just a few tricks for the right combination of suitable items of clothing, we are well equipped for cold, wind and rain. The basic idea is simple and familiar from other outdoor activities: Layering."
About Woolpower:
Die Firma Woolpower aus Schweden ist weltweit bekannt für warme Unterbekleidung. Bereits seit 1969 werden Unterwäsche, Socken und Accessoires in Östersund aus hochwertigsten Materialien und mit eigenen Webtechnologien hergestellt. Vom Garn bis hin zur fertigen Socken legen die Schweden dabei höchsten Wert auf Nachhaltigkeit und faire Produktionsprozesse. Die Woolpower Insulation Scala gibt Auskunft über die Wärmeleistung des jeweiligen Produktes: Lite - 200 - 400 - 600 - 800. Von leichter Unterbekleidung für die Fischerei bei mäßigen Temperaturen bis hin zu extra warmen Socken für extremste Bedingungen findest du hier das passende Produkt.