Article successfully added.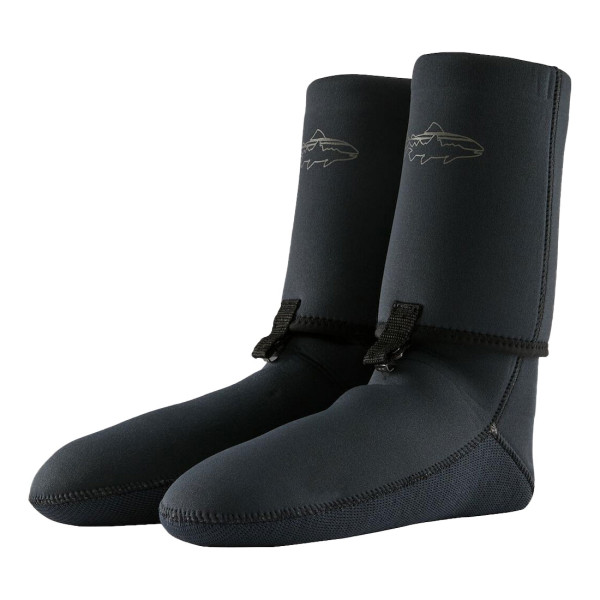 Back in
stock
Patagonia Yulex Wading Socks with Gravel Guards
Patagonia Yulex Wading Socks with Gravel Guards
Wet Wading - Wading without waders is becoming more and more popular in our home waters. However, appropriate clothing is of utmost importance, as unsuitable materials can inevitably lead to chafed feet. That's why the new Yulex Wading Socks from Patagonia offer you first-class comfort and protection - even after hours in the water.

They are made of robust 2 mm thick polymer material (from 85 % Yulex™ natural rubber and 15 % synthetic rubber). This abrasion-resistant and environmentally friendly material fills your wading socks to the same extent as ordinary wading socks. This is extremely practical as these socks make your normal wading boots the ideal "wet wading setup". In addition, the integrated Gravel Guards provide perfect protection against penetrating stones or gravel and the perforated surface lets the water run off quickly.

The Yulex Wading Socks are the perfect choice for wet wading in fresh-and saltwater. They are not only suitable for tropical fishing, but also for domestic summer fishing on river and coast.

Details:


Wading Socks with Gravel-Guards to attach to the lacing of the waders
The footbed made of dense Yulex™/neoprene material is minimally compressible
Outer material: 2 mm material with a polymer content of 85 % Yulex™ Natural rubber and 15 % synthetic rubber
Lining: Jersey fabric made of 88% recycled polyester and 12% elastane
The natural rubber comes from sources with a Forest Stewardship Council™ Certificate of the Rainforest Alliance
Fair Trade™ certified
Suitable for all common wading shoes
Easy to put on and take off
Anatomical fit
Weight: approx. 320 g
Color: BLK (Black)
| Size | Size US | Size EU |
| --- | --- | --- |
| XS | 4 - 5 | 37 - 38 |
| S | 6 - 7 | 39 - 40 |
| M | 8 - 9 | 41 - 42 |
| L | 10 - 11 | 43 - 44,5 |
| XL | 12 - 13 | 45,5 - 46,5 |
| XXL | 14 - 15 | 47 - 48 |